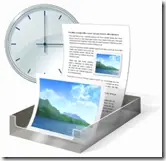 If you are looking to browse Recent documents in Windows 7 explorer, then it will not be available where you found in Windows XP. It's in different location like Vista. Find out the Windows 7 recent documents location with this small guide.
This is helpful to  access  Windows 7 drives over the network to find out recently opened documents and visited places in explorer.
Recent documents for Windows 7 is located under here,

Look at above location when you browse other users' data over network or as separate disk.
Delete all files ( It is just shortcuts) from this location to clear your recent documents in Windows 7.