'Outlook Web Access Light' view helps the user to access the corporate emails hosted in Microsoft exchange quickly without showing all icons, widgets, and options in low bandwidth network. Also, if the web browser is not compatible (outdated version) for the full version of webmail experience, it automatically changes to the light version. It is slightly different than the ordinary view. Recently I faced a strange issue with a particular user to get back the normal web access view. Even though I tried to log in with different browsers and computers when 'Use Outlook web access light' is unticked in the login screen, but it logged in with the web access light view only.
On the same computer, other users' accounts worked fine. Clearing the browser cache and cookies did not help for the particular user account. That was the indication that the computer and the web browsers are fine, but something wrong with the user account in the mail server side.
Normally when you want to access your exchange emails via webmail with the light view, you can simply select the 'Access light' checkbox as shown below, this is applicable for Microsoft Exchange 2007 and 2010.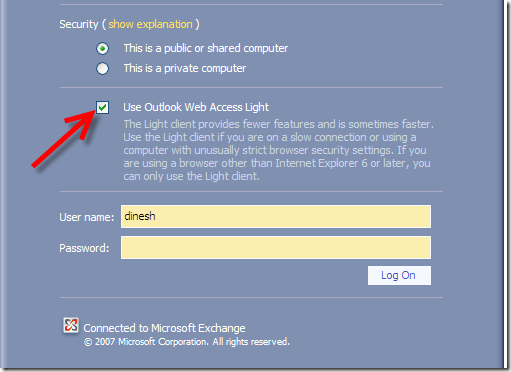 Google chrome browser opens the exchange 2007 web access in Light View by default, may be due to some compatibility issues (this could have been fixed in latest versions). Internet Explorer and Mozilla Firefox opened the both views without any issues.
But, the issue I faced was not related to the browser. To check the current logged in web access (type) experience, check it under Option-> About. Light View web access shows as 'Basic'.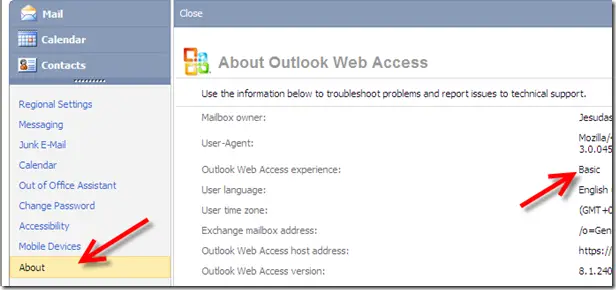 Outlook Web App Light Version to Normal View
As I said earlier, changing the browser, and the computer did not help to fix the particular user's web access light view problem. Cleaning the cache, cookies did not help either. If you are in a similar situation with exchange 2007 (some times exchange 2010 also) for a certain user only, try the below method.
Login to outlook web access, go to Options and select Accessibility. Remove the tick from 'Use the blind and low version experience'. Do not forget to press 'Save'.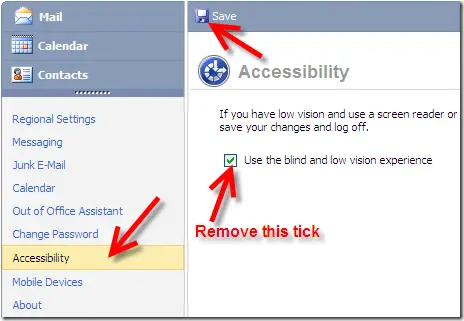 If you are using emails hosted in Exchange 2013, 2016 and later version, the Outlook web access changed completely. You can find similar setting under options and display settings.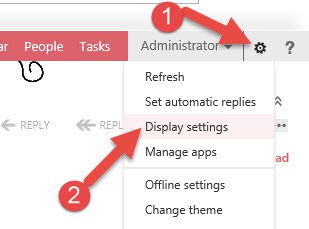 Select "Outlook Web App version" and untick the light version option as shown below. Click OK to save the settings.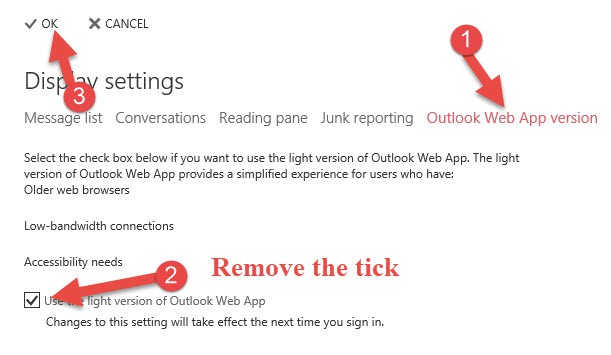 Once you logoff and login back, the web access will open with premium full features ( if you have not selected 'Outlook web access light' in login screen) assuming that you have the compatible web browser.
The same About screen shows following information as 'Premium' web access in Exchange 2007.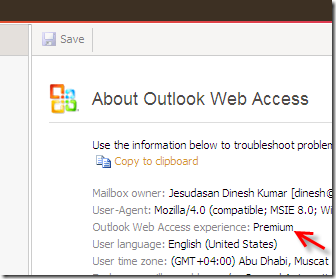 Hope this small guide will be useful to get back the normal and premium version of Outlook web access from the light view in Exchange 2007, 2010, 2013 and 2016 as well.