Every email you send or receive has the meta data that has the information about the particular email. Meta data provides the routing and other useful information about the email. This meta data called as 'email header'. Each email application and client have different ways to view the email header information. In this post, I will be showing you how to find the IP address of an email in Outlook 2016 which is applicable for 2013. Also, it does not matter which Operating System you have, it can work on Windows 10, 8.1 and Windows 7 too as long as you have installed MS Outlook.
Once you received an email, you know who and from which domain (For example, gmail.com or yahoo.com….etc) you got that email, but you do not know the IP address or the location (country) the email got originated. Finding the originating IP (Sender's IP) of particular mail will be helpful to find the location of the sender or the sending mail server. This will be helpful in troubleshooting purpose too. This information can be gathered from the email header on the Outlook 2016 as described below.
How to View the Email Header and IP Address in Outlook 2016/2013
1) Open (Double click) the email you want to trace. Once you opened the email, go to File –> Info and Properties.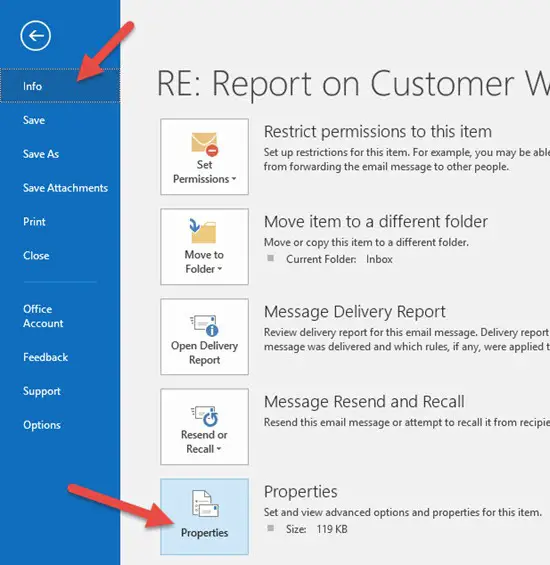 2) In the Properties box, you will see the 'Internet headers' on Outlook 2016/2013. This is the email header meta data of the email that can give more information about particular email. Copy that (Ctrl+c) and paste it in notepad or any type of document you can search the string you want easily.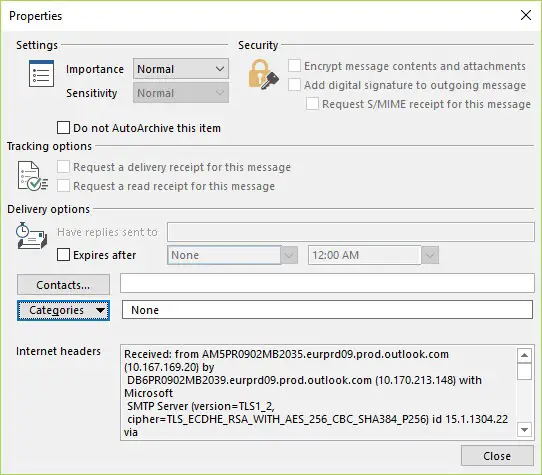 3) Probably you will be seeing several IPs in this mail header. It might have your receiving mail server, sending mail server of the sender and the sender's computer/mobile device IP. It all depends on how the sender's email application is configured or the default settings of the mail service.
After searing for 'IP'  from the copied email headers, it returns the following result for me.

The originating IP is possibly your mail server IP which received this email. Since mine is in Office 365, it is one of the office 365 email server IP.
The sender IP is the IP of the sender of this particular email. This could possibly the mail server of the sender or the public IP of the sender.
I hope this method would be useful to trace an Outlook email up to certain extend to find out the sender's IP. These steps will match on Microsoft Outlook 2016, 2013 and 2010 too.