StarWind, the famous premium SAN software is available for free now with very few limitations. These limitations are very minor and not to be considered for learning, personal usage and even for the small business firms. Free StarWind iSCSI SAN software makes a  Windows computer as a professional network storage for VMware, Hyper-V, Xen server virtualization software, and also it can work an iSCSI target storage for any hosts. It's a great advantage of having a professional storage without a physical storage hardware. Here, I show how to download the latest free StartWind iSCSI SAN software, get life time free license and install it on desktop virtualization software VMware.
I already covered free and open source NAS software FreeNAS which is also a good product for testing purpose, but StarWind is the most professional software with real features of SAN devices. You get good support from the company too (After purchase full version). FreeNAS and other similar product Openfiler can be installed on a physical or virtual machine as an Operating System, which means it doesn't need to run on a OS. But, StarWind requires Windows Operating Systems and it works as an application to convert your physical hard drives as network storage.
Installing StarWind in VMware or VirtualBox will be very helpful for testing lab at home with one or two physical computers. This will be ideal for experimenting the failover clustering or live migration of other virtualization products. One single virtual machine with few virtual hard disks will serve the purpose nicely for testing.
Here are the some Key Features of Free StarWind iSCSI SAN Software
Data Deduplication: Data Deduplication is a specialized mechanism of data-compression that allows reducing needed storage capacity due to the process of eliminating duplicated data.Learn More.
Snapshots & Clones: Capture point-in-time snapshots with unlimited rollback points or make full volume copies. Learn More.
CDP (Continuous Data Protection): CDP provides a replication mechanism to ensure an RPO (Recovery Point Objective) of zero data loss for applications that require a lower RPO than asynchronous replication can provide. Learn More.
Thin Provisioning: Allocate space dynamically for highly efficient disk utilization. Learn More.
Support for iSCSI Standards: IPSec, CHAP, MPIO are all fully supported in StarWind Free.
Learn More About Additional StarWind Features: High Speed Cache, Virtual Optical Drive, RAM Drive, Microsoft Server Core Support.
Find out the more information and comparison of Free and paid Starwind software.
How to download and install free StarWind Software on VMware
I'm installing it on guest Windows 2003 server OS with VMware desktop virtualization software. StarWind iSCSI software can be installed on server Operating Systems, Windows Vista and Windows 7 only, not on Windows XP. You can install only the management console on Windows XP and manage other StarWind servers.
1) Download Free StarWind iSCSI software from here. Registration is required, the confirmation will be sent to your email. You can download the free software and license file from your user area.
2) Installation is very simple like installing normal programs in Windows Operating Systems. Since I wanted to manage the same server from this host, I have selected the management console also.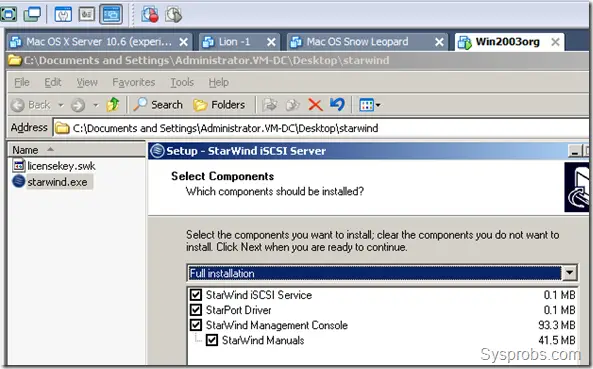 Microsoft iSCSI service is required for the installation. Download the Microsoft iSCSi service from official site here.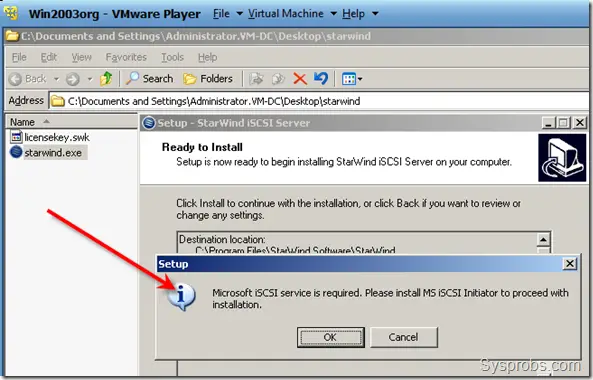 3) You need to activate the product now. Use the downloaded license file to activate and get the full version for free.
How to Import License file and Activate StarWind iSCSI Software.
4) Open the management console, go to Host –-> Registration –> Install License. Browse the license file and load.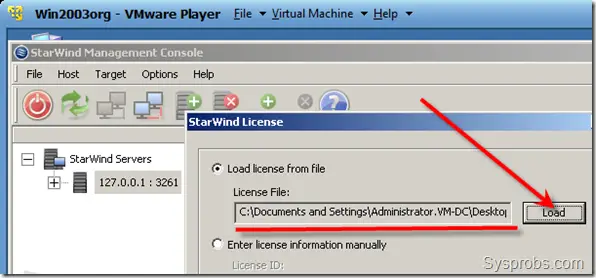 If you downloaded the correct license file from the registered user's area, then there should not be a problem. Successful message will appear after the activation.
5) once you get the activated management console, now the time to add StarWind iSCSI SAN server. It can be the local server or any StarWind iSCSi server on network. In our case, the same local Windows 2003 virtual machine is the server. Press the add host icon.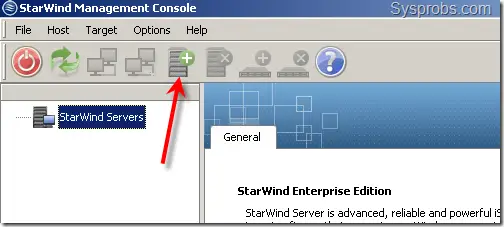 Select the local host (127.0.0.1) or type the IP address of networked server. You can do a search on particular network range also.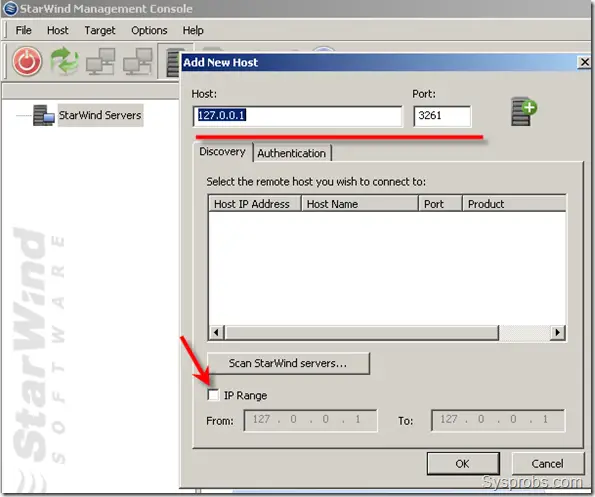 6) Enter the user name and password to connect the free StarWind iSCSI server.
By default, the user name is 'root' and password is 'starwind'.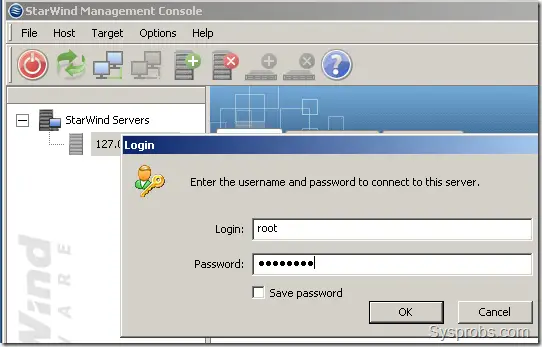 That's it. Now your management console is successfully connected with an iSCSI server. Adding storage and iSCSI targets as virtual hard disk or physical hard disk is very straight forward and easy. When it comes to production environment then its always advisable to plan the iSCSI disks size requirement and create according to it.
I will be playing with this free product in virtual environment and update the outcome later in this blog.
Stay tuned.