StarWind, the famous premium SAN software is available as a free product with few limitations. These limitations are negligible when it comes to learning, personal usage and even for the small businesses. The StarWind VSAN software makes a Windows computer as professional network storage for VMware, Hyper-V, Xen server virtualization software. Also, it can work as iSCSI and other standard target storages for any hosts.
It's a great advantage of having VSAN without physical storage device. Here, I show how to download the latest free StarWind SAN software, get lifetime free license and install it on desktop virtualization software VMware.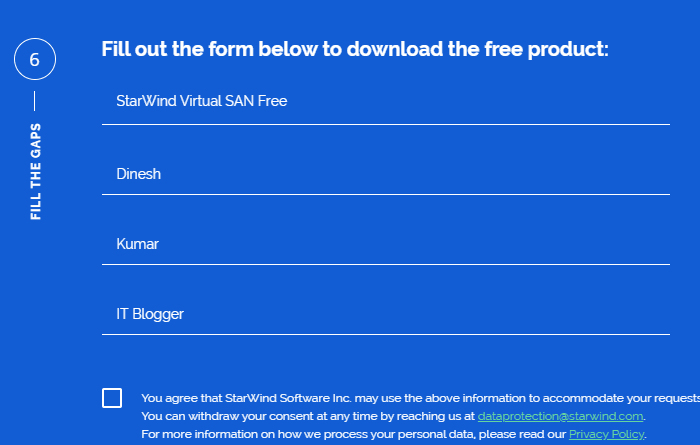 I already published about a free and open-source NAS software, FreeNAS which is the right product for testing purpose, but StarWind is a professional software from a premium company. The paid version can work on Hyper-V and vSphere as an appliance. When you get the chance to work with their free version, it will be easy to use their paid version at your work and data centre.
You can find the difference between the free and paid version of StarWind VSAN here.
Though I did the below installation with their older version, the current version (Ver 8) also will have similar steps to install and use. You can download their paid version for VMware vSphere or Hyper-V for 30 days of demo use. Otherwise, you can download the free version with few limitations. The free version can be installed on Windows OS directly like other regular Windows programs. But in this example, I install it on a Windows server virtual machine. This method gives the ability to add required virtual hard disks to VM for testing and learning purpose.
Also having the StarWind on VMware or VirtualBox will be very helpful for a testing lab environment with more guest VMs. This will be an ideal option for experimenting with the failover clustering or live migration with several server VMs. One single virtual machine with few virtual hard disks will serve the purpose nicely for testing StarWind VSAN.
Key Features of Free StarWind VSAN Software
Data Deduplication
Snapshots & Clones:
CDP (Continuous Data Protection)
Thin Provisioning
Support for iSCSI Standards
You can find more features here.
How to download and install free StarWind Software
I'm installing it on a guest Windows server OS with VMware workstation. You can use VMware Player or VirtualBox or even the built-ion Hyper-V on Windows 10 desktop computer. The StarWind VSAN software supports most of the latest Windows Operating Systems.
It has two components, the central core and the management console. The management console can be installed on any Windows client Operating Systems, but it is recommended to install the core component on a Windows server OS for better experience and usage. That is the main reason I'm installing it on a Windows server virtual machine which is running on my Windows 10 client OS.
1) Download Free StarWind VSAN software from here. Registration is required, the confirmation will be sent to your email. You can get the download link and license from email.
2) Installation is straightforward like installing regular programs in Windows Operating Systems. Since I wanted to manage the same server from the same computer, I have selected the management console also.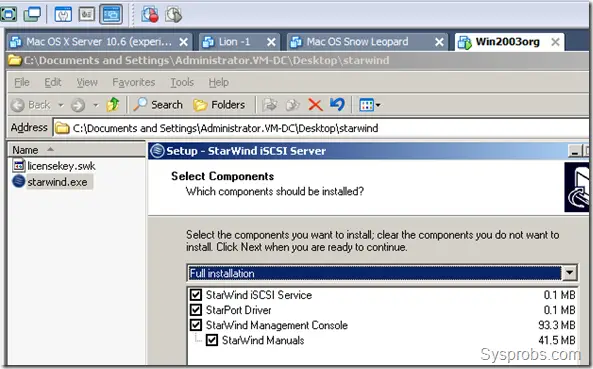 Microsoft iSCSI service is required for the installation. Usually, it is a built-in feature of Windows, and you just need to enable it.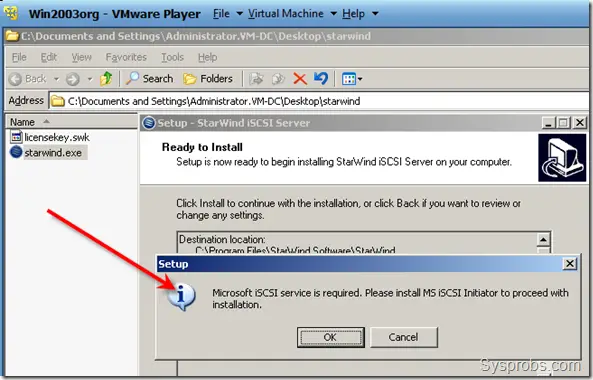 3) You need to activate the product now. Use the downloaded license file to activate and get the full version for free.
Import License file & Activate StarWind iSCSI Software.
4) Open the management console, go to Host –-> Registration –> Install License. Browse the license file and load.
As I mentioned earlier, I did this demonstration with the older version of StarWind, you may see different screens during the installation, activating the license and set up the storage in the current release.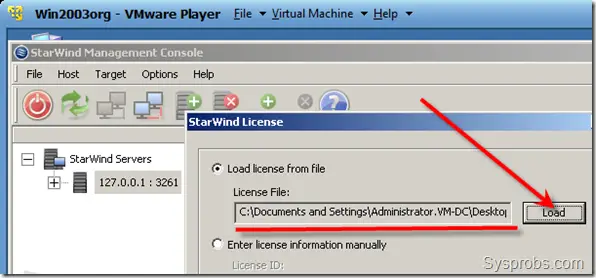 If you downloaded the correct license file, then there should not be a problem. A successful message will appear after the activation.
5) Once you get the activated management console, now the time to add StarWind VSAN server. It can be the local server or any StarWind VSAN server on the network. In our case, it is the same local Windows virtual machine. Press the add host icon.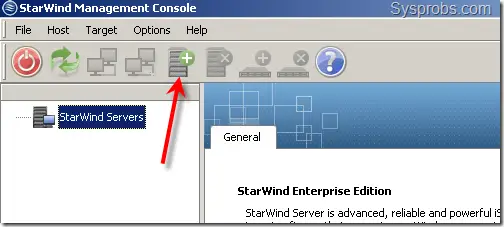 Select the localhost (127.0.0.1) or type the IP address of the networked server. You can also search for a particular network range.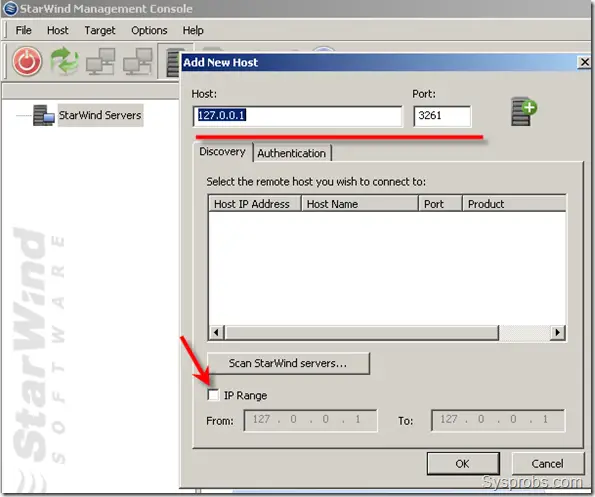 6) Enter the username and password to connect the free StarWind iSCSI server.
By default, the username is 'root', and password is 'starwind'.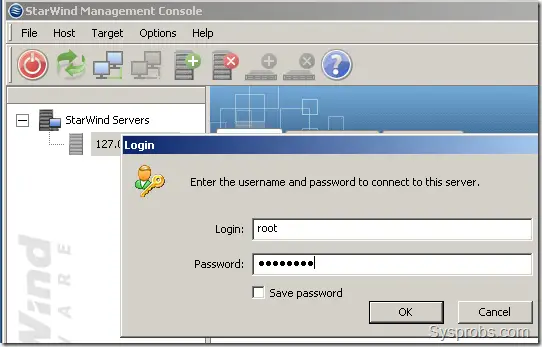 That's it. Now your management console is successfully connected to the StarWind VSAN server. Adding storage and setting up iSCSI targets with the virtual hard disk or physical hard disk is simple and straight forward. In the production environment, it is always advisable to plan the iSCSI disks size requirement and create according to it.