Are you still looking for an easy or all possible methods to restart or shutdown Windows 8.1 and 8 computer? You can use the below 8 methods to restart or shutdown a Windows 8.1/8 computers. Missing the Start Menu and start button is really one of the main interface change and difficulty we face with the Windows 8.1 Operating System.
Without a start menu/button in Windows 8.1 and 8, it is slightly difficult to shutdown Windows 8.1/8 like before. Cursor movement required here. If you are using Windows 8.1 on an ultrabook or tablet which can detect the touch sense, then shutting down is easy like how we close apps on Windows 8.1. Some of the below methods are applicable for Windows 10 to shut down or restart.
Shutdown Windows 8.1/8/10 Computer – 8 Methods
1) Try the default Way
No matter whether you are in metro or desktop view, you can move the cursor to top or bottom right corner (or Windows Key + C ) to get the slide-out menu. Click Settings as shown below (or you can press Windows Key + I to get settings straightaway). Click the Power button and Shutdown.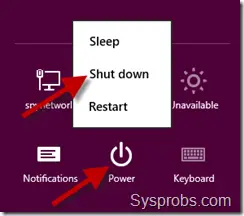 2) Still, Alt+F4 works
Like earlier Windows Operating Systems, you can use Alt+F4 keys to shut down the Windows 8.1 or 10 computers. The opened programs/windows should be minimized or closed to get the shutdown menu by these keys, otherwise, Alt+F4 keys will try to close opened programs, files and windows only.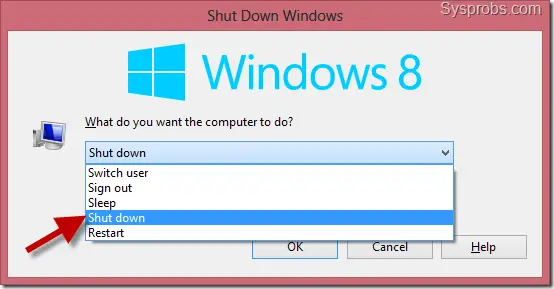 3) Ctrl+Alt+Del will work Too
You can use Ctrl+Alt+Del keys together to get the option to shutdown, restart or sleep your Windows 8.1 computer. Once you have pressed these keys you can see the power option at the right side below corner as shown below. Select the action from there.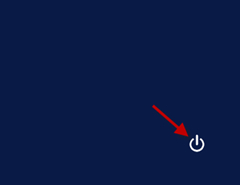 4) Shutdown from Metro View (Windows 8.1 only)
Windows 8.1 allows you to shut down the PC from metro view as they have added few extra options in the home screen. When you click on the Windows button (or Windows key in the keyboard), you will get the option.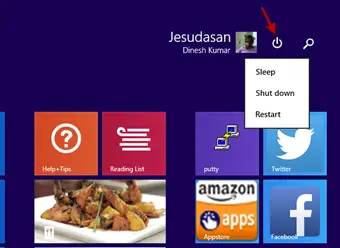 5) Use the Power Switch of Desktop or Laptop Computer
You can use the power switch of the desktop or laptop computer to shutdown Windows 8 or Windows 10 easily.
You need to configure the power options under control panel to make this work.
Go to control panel, select 'Power Options' (change the control panel view to large or small icons). In desktop computers select 'Choose what the power buttons do' and in laptops select 'Choose what closing the lid do' options.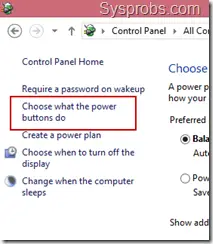 Select 'Shut down' option as shown below and save the changes.

Now you can shut down the PC by just pressing the power switch. This could be harmful sometimes when someone accidentally presses the power switch.
6) Hack the Start Menu and Shutdown
There are few third-party applications available for Windows 8 and Windows 8.1 to get the start menu and start button. By using this method you can shutdown Windows 8 desktop or laptop by the start button.
Sysprobs earlier mentioned about 'Win8StartButton' here in this post. Once you have installed this third party tool to get the start menu and start button, you can easily shutdown/Restart.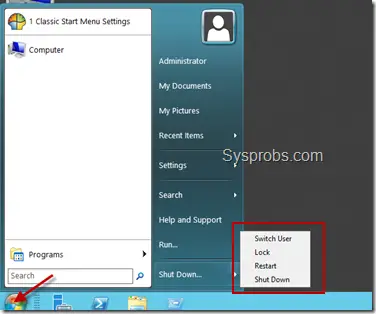 7) Command Prompt is Still Handy
If you like command prompt or PowerShell execution, then you can shutdown and restart Windows 8 easily from the command prompt.
shutdown –t 0 –s   (to shutdown immediately) ( /t /s  /r also work)
shutdown –t 0 –r   (to restart immediately)( /t /s  /r also work)
You will find more options for shutdown command by pressing shutdown /?

8) Create Shortcut Icon Like a Pro – Using Commands
How about saving and running those commands (mentioned in step 5) in a batch file or program shortcut? that would be very easy and nice.

Let's create a shortcut icon and add it to the taskbar.

Right-click on Desktop and select new shortcut. Type shutdown –t 0 –s  if you like to create a shutdown button,( remember; shutdown will start immediately because of 0 seconds, –r  is for restart).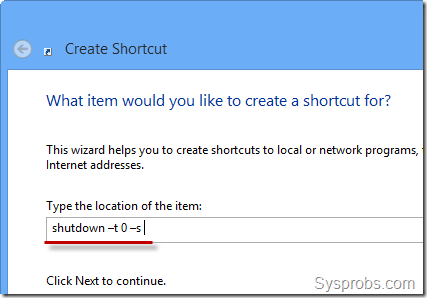 Give a name for the shutdown button.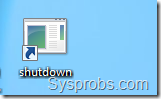 We have almost created a shutdown shortcut button in Windows 8.1/10, but you can tweak it further to looks professional. Let's change the icon and pin it to the taskbar.
Right-click the icon and go to properties. Click Change icon and press OK for the next message. Select a suitable icon for the shutdown button.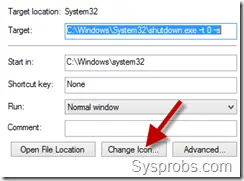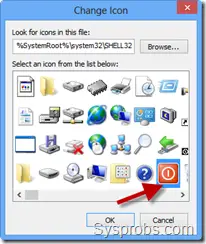 Now you should be seeing a proper power button on the desktop. Right-click it and select 'Pin to Taskbar'. Now you have a shutdown button in Windows 8.1 taskbar.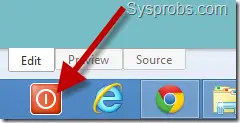 You could repeat the same steps for the Restart button ( –r instead of –s) button too.
Definitely one of the above methods would be useful to shutdown Windows 8.1 or 10 desktop and laptop easily. If you have found any other ways (except third-party tools), please let me know in the comments area.