Latest Ubuntu 11.04 can be installed with 'Easy Install' in VMware which was explained in my earlier guide. The most of the guest additions features started working in guest OS after the installation. For some reasons, VMware shared folders did not work with this method as expressed by readers in earlier guide. Therefore I decided to publish this guide about install VMware tools manually on Ubuntu 11.04 and get the working VMware shared folders which helps to share files and folders between Ubuntu guest and Windows OS hosts.
Earlier I published guide with VMware workstation 7.0.2 and Shared folders did not work with easy install. Now, I have updated the VMware workstation to 7.0.4 and manually installed the VMware tools. VMware Shared folders started working after that and I can share data between Windows XP host and Ubuntu 11.04 guest OS without any networking.
Install VMware Tools Manually in Ubuntu 11.04
1) Install Ubuntu 11.04 on VMware with Easy install or normal install as shown here.
2) Go to VM menu and select 'Install VMware Tools' or 'Update VMware Tools'.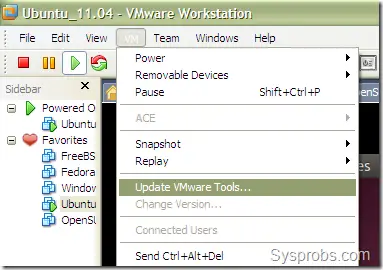 Because of I already installed Ubuntu on 7.0.2 version and updated to latest VMware version 7.0.4, I'm getting Update option.
3) The above step will automatically mount the latest VMware tools ISO file to CD drive as shown below.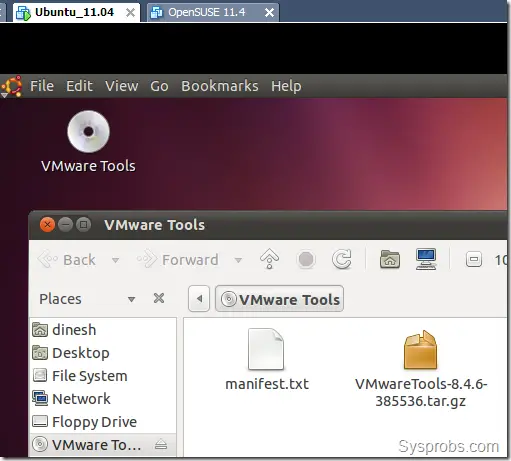 4) Right Click on VMwareTools-8.4.6……gz file and select 'Extract to' option.  Better create a folder somewhere and extract the content. In this example, I have created a folder in Desktop called 'vmtools' and extracted the .gz file.

5) Open Terminal now ( Ubuntu icon—> Accessories –> Terminal). Go inside the extracted location. You can use pwd, ls and cd commands, see below.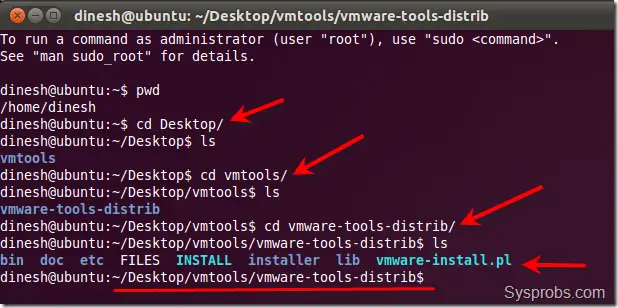 6) We need to execute the vmware-install.pl installation script with super user rights.
Type the following command,
sudo ./vmware-install.pl

Provide the password and continue the installation by pressing ENTER for default values and Yes or No for recommended options.
After the installation restart the guest OS and enjoy with latest working VMware tools in Ubuntu 11.04.
Setting up VMware Shared Folders in Ubuntu 11.04
As I said earlier VMware tools did not work in easy install with VMware 7.0.2. I'm not sure whether its an issues with 7.0.2 or easy install method. Anyhow, it started working after 7.0.4 upgrade and manual VMware tools installation.
1) Go to settings of virtual machine and add the host computer's folder or partition you want to share with Ubuntu guest OS.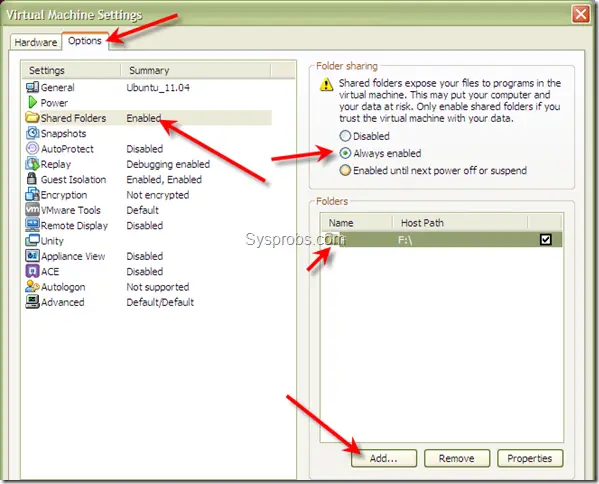 You can select 'Enable this share' ( to make the share permanently on guest) and 'Read Only'( Read only of host share) in the next options while adding the share.
2) Once the share added successfully, go to the following location in Ubuntu 11.04.
File System –> mnt –> hgfs
You should see the share folder here and must be able to access the host computer's ( Windows XP, Vista or Windows 7) shares.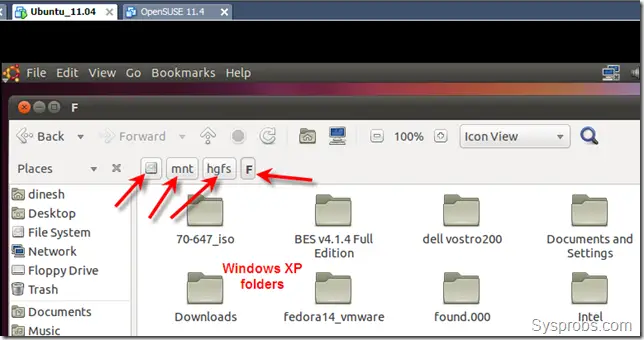 The F partition of Windows XP can be accessed from Ubuntu 11.04 by VMware shared folders. I have not set up any networks between guest and host- that's the beauty of VMware shared folders.
So, If you have the older version of VMware, then better update to latest version 7.0.4. Try the Easy install and VMware shared folders, if it doesn't work then install VMware tools manually as described earlier..
I'm not a great Linux expert, but I will try to help you out if you face any difficulties in these steps.
The new feature of Ubuntu 11.04 Unity is not supported completely by VMware yet. It works well on VirtualBox as guest machine. I will be updating about Ubuntu 11.04 2D and 3D unity in VMware very soon. Stay tuned with Sysprobs.