The original SS2Svc32.exe file is a component of Sonic Suite 2 by ASUS. Sonic Suite 2 is an audio effects interface software developed by ASUS. Sonic Suite 2 is a software that provides virtual audio effects and enhancements. This program provides sound equalization, bass boost, reverb, virtual surround sound, preset audio profiles, noise reduction, volume stabilization, and more. It can even be used to diagnose issues with sound. Sonic Suite 2 is available on the Windows platform.
Asus is a Taiwanese computer hardware manufacturer that designs & develops all starting from desktops and laptops to mobile phones, monitors, optical storage devices, and graphics cards. In 2015, Asus was the world's fourth-largest computer seller. The company started launching graphics cards in 2005. Asus was founded in 1989 and is currently headquartered in Taipei, Taiwan.
In the filename SS2Svc32.exe, 32 represents the 32-bit core process for the application. This .exe file is not an integral component of Windows and can be disabled if not required. The .exe extension on a filename indicates an executable file for the Operating System like Windows 7, Windows 8, and Windows 10. Sometimes, Executable files may harm your computer. They can be used to transmit Malware & Viruses. Thus it is advised to first know about the creator/developer of the software and find if they are trustworthy or not before running them on your Laptop or Computer.
Often, malware camouflages themselves as SS2Svc32.exe when they are located in the C:\Windows or C:\Windows\System32 folder. So one should first check the SS2Svc32.exe process on your PC to see if it is a threat. It can be found when this executable file uses excessive RAM Memory, Disk, CPU & GPU. You can check it by opening the task manager and by clicking on the Performance Tab. The SS2Svc32.exe process in Windows 10 can be important for your PC, so one must be careful while deleting it. If it is malware, it might run in the background.

What is SS2Svc32.exe
SS2Svc32.exe is not an integral component of the Windows OS and causes relatively few problems. It can be located through the following path. "C:\Program Files"—typically C:\Program Files\ASUSTeKcomputer.Inc\SS2\UserInterface\.
The program file has no description. The program can be uninstalled from the Control Panel or by using a suitable Antivirus Software. 
Interesting Fact
SS2Svc32.exe can monitor the applications which run on your PC and can even record your keyboard and mouse inputs. So, the security rating is 41%, which is highly dangerous.
There have been 31 different instances (reported ones) of SS2svc32.exe found in a different location.
How to Check if the .exe File is a Legit Software or Virus
Go to the File Location.
Right-click and go to properties.
In the general tab, see the description of the file.
In the digital signatures tab, find the Signer and search it on google to verify if it says "Unable to verify" then the file may be a virus.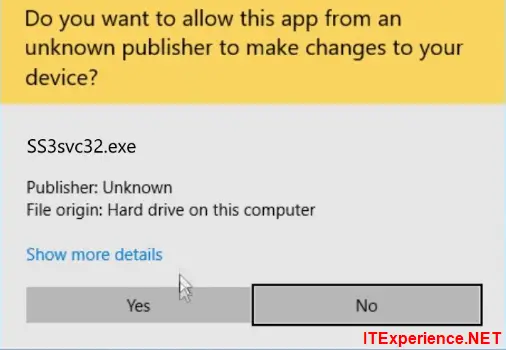 Error Messages that Appear Related to ss2svc32.exe
"ss2svc32.exe has encountered a problem and needs to close. We are sorry for the inconvenience."
"ss2svc32.exe – Application Error. The instruction at "0xXXXXXXXX" referenced memory at "0xXXXXXXXX". The memory could not be "read/written". Click on OK to terminate the program."
"ss2svc32.exe has stopped working."
"End Program – ss2svc32.exe. This program is not responding."
"ss2svc32.exe is not a valid Win32 application."
"ss2svc32.exe – Application Error. The application failed to initialize properly (0xXXXXXXXX). Click OK to terminate the application."
How to Remove ss2svc32.exe
One can remove this exe from your computer by following these steps.
Run the uninstaller of the software program located at C:Program Files/ASUSTeKcomputer./ProductDaemonSetup/ProductDaemonSetup/SS2Svc32.exe_uninstall.exe
You can also use the Add or Remove Program feature in Windows to remove it.
Conclusion
Ss2svc32.exe is the 32bit service executable for the Republic of Gamers (ROG) Sonic Studio II software, and it comes as a package with ROG motherboards that use the Sonic Studio software.
But if you encounter that Ss2svc32.exe is using too much CPU or GPU or Memory, it is probably an infected file/virus. If you face problems with SS2svc32.exe, you can uninstall the associated program by opening Control Panel>Program and Features and select the respective software and uninstall it. You can also use the Uninstaller provided by the developer.