I'm posting this as an answer for a question asked by Sysprobs reader. How to configure and set up NFS share on Windows 7 and connect it to VMware ESX server as storage. Here I explain the steps I did in my test lab to create and connect storage to VMware ESXi server. Network File System (NFS) developed by Sun Microsystems to use in UNIX based systems.
Update:
Though this post was originally published in the year 2010 for Windows 7 host OS, it might work with Windows 10 and 8.1 as long as Hanewin NFS works on the latest Windows OS with proper firewall setting.
To set up NFS share on earlier Microsoft Operating systems, you need a component called 'Windows Services for UNIX (WSFU)' which can be downloaded from Microsoft. But WSFU is not available for Windows 7. So, creating NFS share on Windows 7 and allowing other UNIX based Operating Systems to access the share is not straight forward without third-party utilities. As mentioned earlier, this case is applicable for Windows 10 and 8.1 Operating Systems also.
haneWIN NFS Server works nicely with Windows 7 to create and share Network File Systems.  Download 30 days trial version of hanWIN NFS here. If you are happy with the product and for permanent use, get the registered version.
Steps to Configure NFS Share on Windows 7/8.1/10
1) Download and Install haneWIN product.
2) I suggest to switch off Windows firewall in Windows 7 client.
3) Right Click and Run as administrator to open it.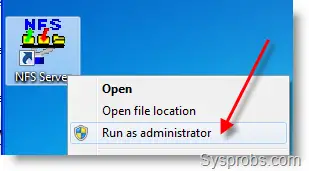 4) Go to Server tab and make sure below both checkboxes are ticked.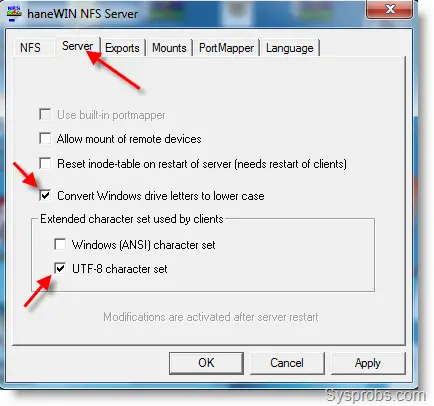 5) Go to the Exports tab, here we can define which drive or folder will be shared. The best part is, it doesn't require any Windows permissions to set up. I'm going to share a folder created for ESXi storage under below location.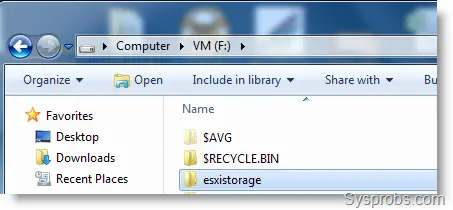 Click on 'Edit exports file' button, remove the example shares and add your share location.  I have added the following line in the opened text file.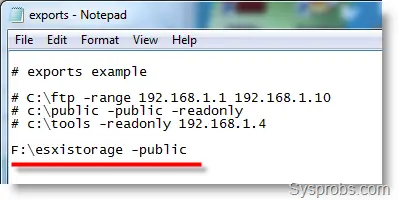 -public to enable web-based NFS share access. More details available under help.
Note – You can't save this file if you started the program without selecting run as administrator option.
See Also
Configure iSCSI disks on Windows computer with VMware
How to connect FreeNAS iSCSI disks to VMware ESX Server
6) Press Restart Server to take effect of changes in the export file.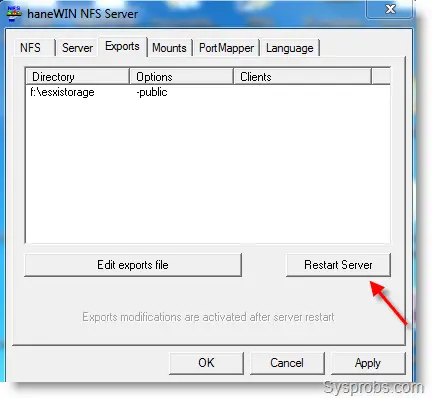 7) That's it. Now you have set up the Windows 7 as NFS server with share that can be accessed by UNIX based Operating systems and programs.
To view connected clients and mount points, go to Mounts tab. I managed to connect this share from VMware ESXi server. Here is the IP address of the connected client.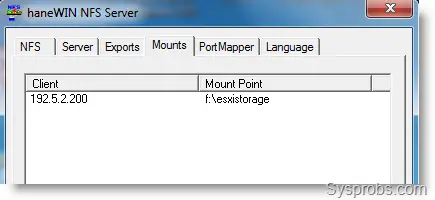 Connect Windows Share with haneWIN NFS to VMware ESXi Server Storage
As described earlier, you can easily use Windows OS partitions and folders with haneWIN NFS as network storage for VMware ESX or ESXi servers without any hardware devices. It is a very simple and easy way to extend data store with Windows shares in a testing environment or home use.
Before continuing further steps in connecting the NFS share with VMware vSphere, make sure to meet the following requirements.
a) Network connectivity between VMware ESXi server and Windows host
b) Windows firewall is switched off or exception is given for NFS/storage services on Windows host.
Here is the recap of NFS share I did the setup for VMware storage.

My F drive properties as shown below.

1) Open vSphere client, go to the Configuration tab and click on Storage.

2) Click on 'Add storage' at top right. Select second option Network File System.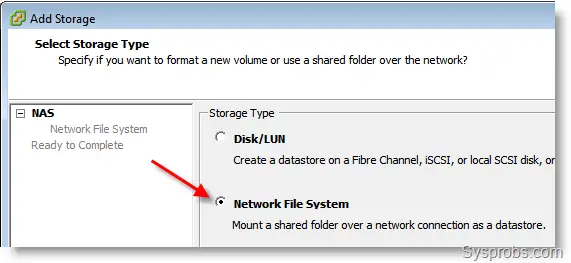 3) My Windows 7 host haneWIN NFS server IP is 192.5.2.100.
So, type the IP address in server location.
Folder name (Shared directory) should be typed as shown below.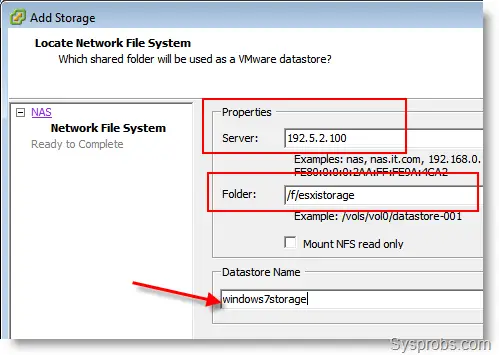 4) Click Next and OK. That's it. Added Windows 7 share NFS will appear under VMware ESXi storage. It picks up the Windows partition capacity and free space.
If you don't mount this as 'Read only', then you can use this as full fledge storage to install Operating Systems and save files.

The good thing is, same storage (actually a Windows folder) can be accessed in Windows OS explorer too. So, it's easy to transfer data.
I hope this guide is useful in setting up and using Windows OS folder/partition as storage for VMware vSphere by using haneWIN NFS utility.