Windows 10 was released in late July, 2015 and was met with much positive reviews due to its similarities with Windows 7. The comeback of the start menu and simpler design was well received among Windows users. With Windows 10, you won't have a problem in using and setting up your favorite antivirus programs. Even if you don't want to install other antivirus programs, you can use Windows Defender which come pre-installed with Windows 10. But the question is, is Windows Defender good enough for Windows 10 to protect against all latest vulnerabilities?
By having a built-in and free antivirus, it is a good news for people who want to keep their Windows 10 clutter free and don't want to get in the trouble of installing antivirus software which they will end up uninstalling. Keeping this in view, this article will answer the question, is Windows Defender good enough for Windows 10 or 8.1?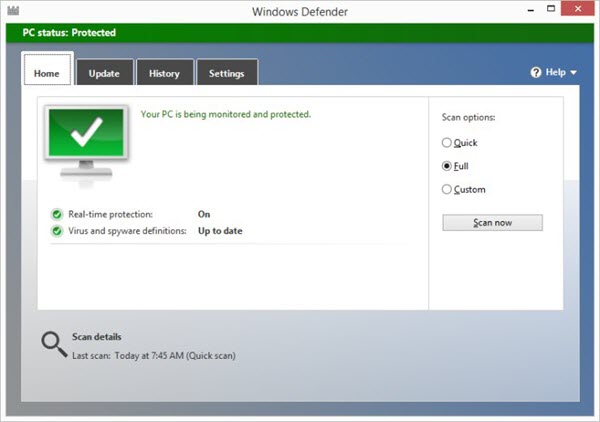 Pros and Cons of Windows Defender in Windows 10/8.1
If we are talking about if Windows Defender is good enough, we need to discuss its pros and cons. Of course being a lightweight and free antivirus, it has its ups and downs:
Pros
● Windows Defender comes pre-installed with Windows 10 so it's free and you won't have to spend money if you only need some lightweight security in your system.
● Windows Defender is developed by the same people who developed Windows 10 in your computer so it takes lesser resources and you can expect it to run faster than third-party antivirus software.
● Windows Defender runs out of the box and no setup is required. It has a minimal and user friendly interface to help you detect and remove malware. It doesn't even have annoying popups like other antivirus programs except for a simple notification when some malware is detected.
● Windows Defender deals with both malware and spyware as well as being lightweight, you won't have to clutter your computer with multiple antivirus software if you want to use this one.
Cons
● Windows Defender lacks in scan speed. Scan speed can vary depending on PC performance. Also other antivirus programs are much faster and can detect much more threats than Windows Defender.
● Windows Defender being simple and lightweight does not have advanced or customizable options to scan your computer.
● As said before, Windows Defender's ability to scan and detect threats is not very impressive. So Windows Defender won't be able to catch as many viruses as other antivirus programs.
● Windows Defender is not as powerful as paid antivirus softwares if you want to use Windows 10 on your business computers. Most of the of the Antivirus software test results indicates that Windows defender is not good enought for Windows 10 or other Windows versions to fight against all thrteats.
Is Windows Defender Good Enough? Comparing It with Other Antivirus Software
Detecting and removing widespread and many known malware is no problem for Windows Defender just like other antivirus programs.
AV-Comparatives tests out antivirus programs frequently and in most of their tests, they found out that 95.4% threats out of a sample size of 1517 threats were detected and blocked by Windows Defender. This may seem like an impressive number but BitDefender and Kaspersky managed to detect almost 99% of the threats, which is only 3.6% more than Windows Defender's result, but still it makes a lot of difference.
PC Mag's hands-on test also showed Windows Defender's shortcomings. Their test sample contained lots of common viruses. McAfee and Panda Antivirus both managed to detect 89% of threats whereas Windows Defender eliminated 58% of the samples.

Final Verdict 
If you see Windows Defender as a lightweight antivirus program, it doesn't provide bad protection. Ultimately, you will have to protect your own computer from even getting any sort of threats in the first place. If you keep updating your Windows 10, web browsers and avoid any sort of suspicious software, then Windows Defender is okay for you.
If you don't care about what you install on your computer or you really don't know how you should be avoiding malware yourself, then you may want to get some other protection like Kaspersky to keep your system protected at all times. Most antivirus programs won't provide complete protection so you will need to see which one suits your needs.
We conclude that the answer to "Is Windows Defender Good Enough for Windows 10?" is that Windows Defender is surely not good enough when compared to the big antivirus programs. It may be lightweight but it does not perform well in all scenarios, so a third-party antivirus program may be required if you want to protect your computer from big threats.