By default, any smartphone or tablet will display the mobile version of the Facebook website when you try to access it. If you are browsing the Facebook website with a web browser from your Android or iPhone, it is going to display the mobile version which is having different look than the traditional desktop site. That doesn't mean you can't access its full desktop version on the smartphone. Here is the simple way to access the Facebook full site on your iPhone, it can be iPhone X, 8, 7 or older versions.
This method is applicable for iPad, iPad mini, and Pro too. Since you will be automatically redirected to the mobile version from these devices, follow the below steps.
How to Access Facebook Full Site (Desktop Version) on the iPhone?
Step-1 (Change the URL)
a) Log-in to your Facebook account from the browser. Normally, it will log in to the mobile version (m.facebook.com), no worries, let's go to the next step.
b) Once you have successfully logged in to the Facebook from any web browser from iPhone, now change the web address to www.facebook.com/home.php. That will open the desktop full version of Facebook on your iPhone as below. It doesn't matter which browser or iOS version you are using, but it works!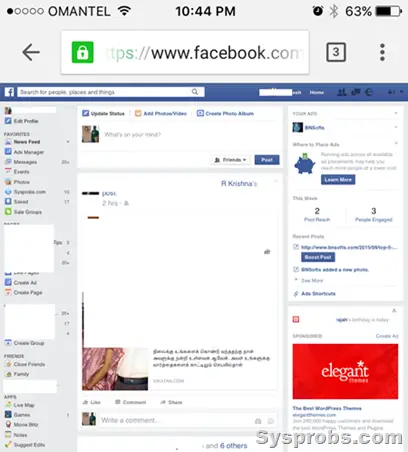 Related Guide- How to block facebook on Windows 10/8.1 PC
Step-2 (Use Safari Feature)
If you are a Safari web browser user, you have an additional option to request the desktop version.
Open the Safari browser and go to facebook.com, as expected you will be redirected to the mobile version. Before or after log in to your FB account, tap the share button and select 'Request Desktop Site' as shown below. That will give the Facebook desktop site on your iPhone or iPad device.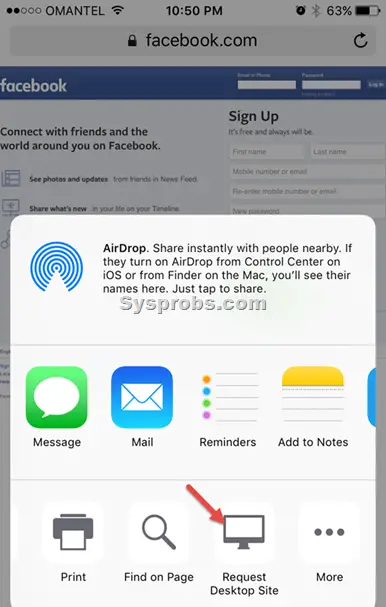 I'm sure these 2 simples steps will be useful. Even though it is not needed to browse the full site on the small screen of the iPhone or tablet, in case you need, this guide would be helpful.
Read Also: How to access the Twitter desktop site on the mobile devices
Always, their mobile version and the Facebook app allow to do everything we do normally on the full version of the desktop site.