We all know that the Central Processing Unit (CPU) is the brain of a computer and provides all the processing for all the processes a computer needs to perform. Today's desktop CPUs can handle almost any game or program you throw at them. The CPUs available today are far cheaper and more powerful than the CPUs available like ten to twelve years ago. The main reason for that is that the manufacturing of these CPUs have improved over the years and now manufacturers can build a higher number of transistors on very small chips which are very powerful and energy efficient. Here we are going to mention some of the best CPUs for gaming you can consider while purchasing a gaming laptop or desktop.
We have listed a few great gaming laptops and best laptop brands already. If you are looking to build your new PC and don't have the time or you can't research the different benchmarks for different CPUs you want to select for your new PC, we have you covered with this list of the best gaming CPUs available on Amazon and AMD vs Intel processor types for gaming. Following are the top 10 best CPUs for gaming from Amazon: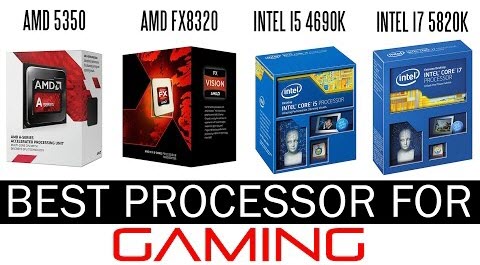 Entry Level Best CPU For Gaming
10. AMD Athlon X4 860K
The AMD Athlon X4 860K may be the best budget CPU for gaming and at such a price, it gives quite a performance. With 2 cores (4 threads) and a clock speed of 3.75GHz, it surpasses the performance of Intel's Pentium processors, which are a little pricier than this one with slower clock speeds. The AMD Athlon X4 860K does not have integrated graphics, which brings its price down under $100 and when you buy this, you can save money for a very nice cooler and a very good graphics card to get really nice gaming performance. We cannot guarantee if this processor can work for you at a long stretch, so you may need to change it after a few years for a higher performance model.
9. AMD FX-8300
It is no surprise that AMD has better lower end CPUs than Intel. That is because Intel focuses more on their mid-range or higher end CPUs which gives an opportunity for AMD to show what it can do with cheaper CPUs. The AMD FX-8300 is a quad-core CPU (8 threads) with a clock speed of 3.3GHz (4.2GHz max) which gives the great performance with a price and power, not even Intel's Core i3 can match. If you get a nice cooler and a robust graphics card with this CPU, you can play many new games at higher settings.
Mid-Range Best Gaming CPUs
8. Intel Core i3-6100
The Intel processors you will see on this list are mostly Skylake processors. The main reason is that the Skylake architecture is the most efficient architecture for CPUs which get more work done per cycle with roughly the same specs as the Haswell based processors. The Intel Core i3-6100 is a very nice processor for people with lighter gaming needs while requiring the efficiency the Skylake architecture provides. The price is not too higher than the AMD FX-8300, but considering the 3.7GHz clock speed along with 2 cores (4 threads) and integrated graphics, this is a nice choice. With support for motherboards with PCIe 3.0 slots, you can take advantage of SSDs for faster storage and better CPU performance.
7. Intel Core i3-6300
While not being very different from Core i3-6100, the Intel Core i3-6300 is a good choice if you want to keep using a processor and not spend too much money. With 2 cores (4 threads), 3.8GHz and integrated graphics, you can aim for a higher performance at a reasonable price so you can save money for cooling and a GPU. If you really want to buy a Core i3 CPU, you should better use a display resolution of no more than 1080p so that the performance does not drop and you can play games at higher settings. Still, this is one of the cheap and best CPU for gaming from Intel.
6. AMD FX-8320
The AMD FX-8320 is an impressive CPU for gaming because it is cheap its specs are very unusual for a mid-range CPU. It has 8 cores, some of which only work when needed and a clock speed of 3.5GHz can be overclocked to 4GHz which is enough for the gaming needs of many people. It does require 125W of power, which is more than the power needs of other processors, but it should not be a problem since you are getting a good performance under $150.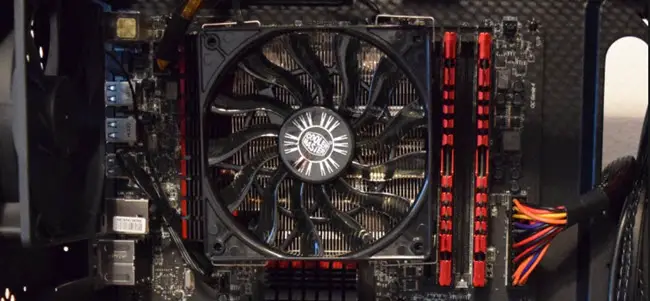 High-End Best CPU for Gaming
5. Intel Core i5-4690k
The Intel Core i5-4690k being a processor from the 4th generation is still very powerful. It may expensive than the Core i5-6500 but it on par with the Core i5-6600. It has 4 cores (4 threads) and a clock speed of 3.5GHz up to 3.8GHz with Turbo Boost Technology. It won't fail to deliver you the best gaming performance and processing power for other applications.
4. Intel Core i5-6500
The Intel Core i5 processors with Skylake architecture are probably the best options if you cannot spend more than $250 on a processor if you want to spend more money on RAM, GPU or cooling. With the Intel Core i5-6500, you will get 3.2GHz clock speed, up to 3.6GHz with Turbo Boost Technology, with 4 cores and DDR4 memory support, which is a very nice option than the Core i3 processors.
3. Intel Xeon E3-1231v3
The Intel Xeon processors are mostly used in workstations or servers. That's why you won't see them being used for gaming. The Intel Xeon E3-1231v3 is an exception because of it just as powerful (or even more with overclocking) as the Core i7 from the 5th generation. This Xeon processor is made from the same dies as the desktop processor. It has 4 cores (8 threads) with a clock speed of 3.4GHz which will deliver enough power for your gaming needs.
2. Intel Core i5-6600k
The Intel Core i5-6600k is the most powerful Core i5 unlocked processor with the Skylake architecture. It is cheaper and more powerful than its Haswell counterparts. This processor delivers 4 cores (4 threads) with 3.5GHz clock speed, up to 3.6GHz with Turbo Boost Technology. Many enthusiasts have taken the clock speed up to 3.9GHz in single threaded applications and up to 4.5 GHz on liquid cooling with all four cores utilized. This makes it par with the entry-level Core i7 processors under $250 for gaming. If you want to use this graphics card for high gaming performance, you won't regret it, but make sure you get a nice cooling setup and a good GPU so that it can deliver amazing performance.
1. Intel Core i7-6700k
The Intel Core i7-6700k is the most powerful of all CPUs for gaming. This CPU is for those people who want to spend the highest on everything on their new gaming PC. This unlocked Skylake architecture based processor has 4 cores (8 threads) with a clock speed of 4GHz, up to 4.2GHz with Turbo Boost Technology. This high clock speed and the unlocked processor is all you need to get the highest performance in your video games at higher resolutions. Of course, you can take the clock speed much higher with this unlocked model, but you will need very good cooling to achieve that.
These were the top 10 best gaming CPUs you can think of Intel vs AMD battle and that can be purchased from Amazon. Although AMD is the biggest competitor to Intel, AMD is still not as popular as Intel is worldwide. Outside North America, you may find more people recommending or endorsing Intel than AMD which is rare even though some of their processors are really good.