By default inbound FTP traffic is blocked on Windows firewall.  If you are hosting a Windows or other third party FTP sites and shares, then these incoming packets should be allowed on the local computer firewall. Without doing this basic setting, other users will not be able to access your FTP server on local or internet network. The following steps show you how to allow FTP traffic through Windows 8, 8.1 and Windows 7 firewall.
As you are aware, disabling or stopping the complete firewall service on a Windows OS computer is not recommended to allow only FTP traffic. By below method we will open only particular ports which required for FTP traffic.
These steps are similar to our earlier guide about enabling ping response ( ICMP ECHO Request) on Windows 8 and 8.1
Allow FTP Traffic in Windows 8 and 8.1 ( Windows 7 too)
Since all three Operating Systems have similar configuration steps, consider below steps as suitable all OSs.
1) Go to Control Panel and open 'Windows Firewall'.

In other way, you can search for 'Firewall' in search box and select Settings then Windows Firewall as shown below.

2) Click on Advanced Settings.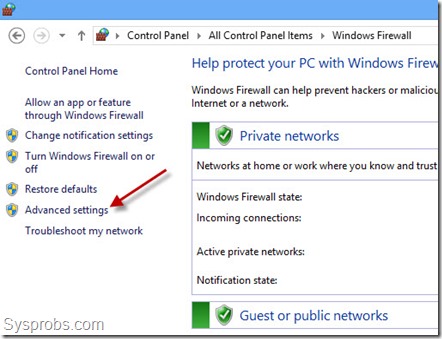 3) Here we need to create a new inbound rule to allow FTP traffic on the network. This can be done by allowing particular port numbers of incoming traffic. If you do not have any third party personal firewall program, this step will make sure that incoming FTP traffic is enabled on the computer even though firewall is on.
To create a new inbound rule on Windows 8 or 8.1 computer, click on Inbound Rules and 'New Rule'.

4) Select 'Port' as the rule type on next screen.
5) You can leave 'TCP' selected and under ports number enter 20 and 21 ( 20,21). FTP ( File Transfer Protocol) uses port numbers 20 and 21 for data transfer and command control, click here to view more information.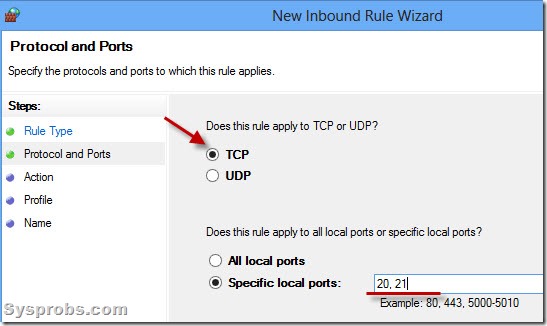 6) Select 'Allow the connection' which will accept the incoming traffic/packets on these port numbers.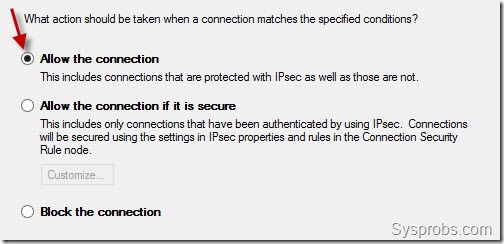 7) Depending on the network connection you are connected, select the connection types where the particular rule should be applied. You can select all three ( Domain, Private and Public) if you are not sure which one to select.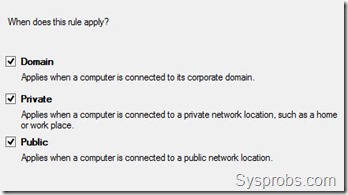 8.) Provide a name for the rule you have created, for example 'FTP'. This name will show under incoming rules on your Windows 8 or 8.1 firewall advanced settings.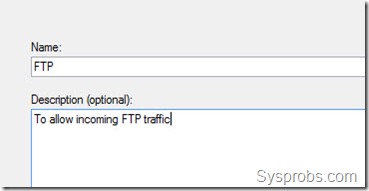 If you want to block incoming FTP traffic later, you can simple right click on it disable the rule. So the rule will be no longer active.
That's it, we have successfully allowed FTP traffic through Windows 8, 8.1 and Windows 7 firewall by above steps while other firewall rules and blocks still on and active.