The 'Unread Mail' is one of the useful folders in Microsoft Outlook to view the unread emails in one place from other mail folders in a particular Outlook account. Recently, one of the users complained that he couldn't find it under 'Favourites' where it used to appear. If you encounter a similar scenario, here is the way to show the 'Unread Mail' folder and add under Favourites in MS Outlook.
It should look like below in ordinary setup.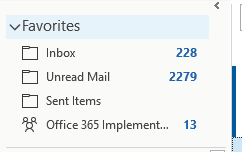 Closing and restarting the Outlook will not bring back the folder because it a saved in your Outlook account profile. Even restarting your computer will not help here.
Here is the view without the folder.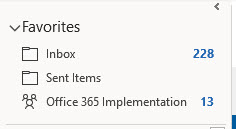 How to Show Unread Mail under Favourites in MS Outlook
Let's see few scenarios. The below scenarios may vary for your situation because it depends on the Microsoft Outlook version you have.
1) Look under 'Search Folders'
If you can spot 'Search Folders' in the Outlook view, you can find the Undead Mail folder there.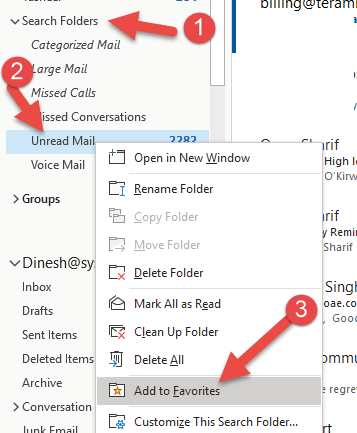 Right-click on it and add to Favourites.
2) Search for it
If you can't find the 'Search Folders' or 'Unread Mail' folder inside it, then we have to search for it and add.
To do that, you need to go to the 'Folder' tab.
The 'Folder' tab may not appear if the ribbon view set to 'Simplified ribbon' in the latest Outlook versions.

Click the down arrow icon at the right of the menu to change the classic view ribbon. This will show the 'Folder' tab.
Under Folder, click 'Search Folder' button.

This will show the pre-configured email folder.  Select the Unread Mail folder and click OK.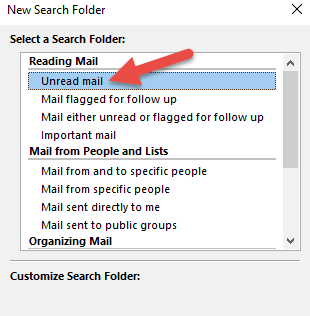 It will bring back the folder under search folders. Now it is similar to step 1. Right-click on the folder and add to favourites.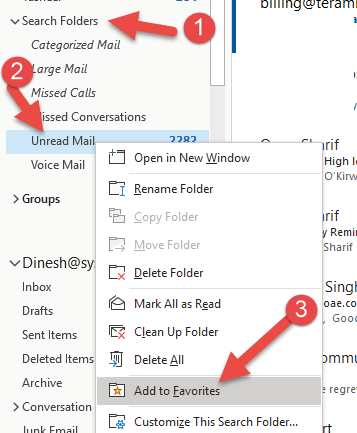 These above steps will bring back the 'Unread Mail' folder under the favourites folder in Microsoft Outlook 365/2019 or older versions. This method will work on any Operating Systems such as Windows 10, 8.1 or macOS as long as you have the MS Outlook.