Earbuds are great for listening to music yourself or enjoying audiobooks or attending calls while on the move. Cheaper earbuds are getting better, so here we have compiled a list of the best earbuds under 50 and 100 dollars. Under $50, you would find mostly wired earbuds from companies like Zipbud and Xiaomi with crisp sound and exceptional build quality.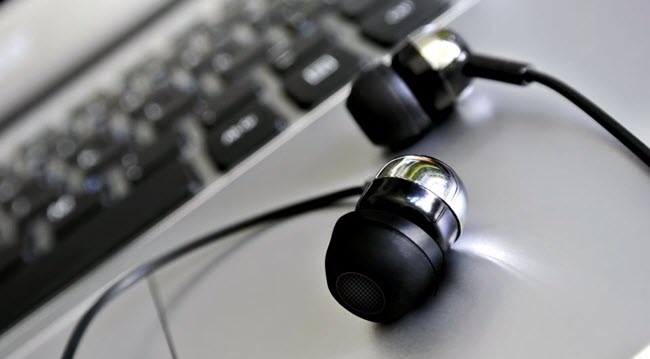 In best earbuds under 100 dollars, you would find earbuds from bigger companies like Bose, Jaybird, 1MORE and also some professional-grade in-ear monitors.
Best Earbuds Under 50 Dollars (Suitable for Sports and Sleep)
1) MEE Audio X6 Plus – Cheapest Wireless Earbuds Under $50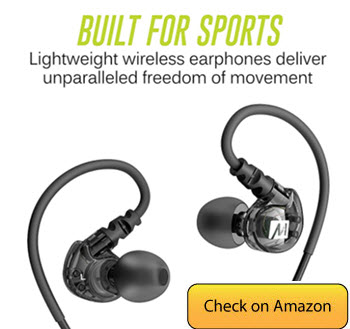 The MEE Audio X6 Plus is the best cheapest wireless earbuds available right now on Amazon, and it is best for people on a tight budget. The earbuds have an ear hook design so that they don't come off every time. The earpieces fit easily in the ears and are very comfortable even for long periods of listening time. It also has a built-in microphone for calls, which you might not usually find in earbuds in this price.
While the MEE Audio X6 Plus is great for regular use and while using in workouts, pairing it through Bluetooth with your phone for the first time may be a bit difficult. Regarding sound quality, the sound of these earbuds is not very bad but not very amazing too. If you only care for listening to your favourite music and not on how it should sound while saving some money, then these earbuds are great for you.
Pros
Comfortable during workout sessions
Cheapest wireless earbuds under $50
Cons
First time setup may be a bit difficult
Sound not up to par with high-end earbuds
2) Symphonized NRG 3.0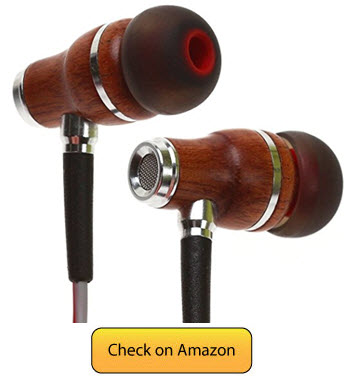 Handcrafted products have a premium feel that makes them feel totally different from other things. The Symphonized NRG 3.0 are handcrafted wooden earbuds under $50 that feel great and sound great as well. From afar, the Symphonized NRG 3.0 look like a regular pair of earbuds, but they are handcrafted from wood which really makes these earbuds give a crisp sound with deep bass. These earbuds come with a cloth pouch to keep them safe from damage. The only thing most people would be concerned about these earbuds is that the headphone jack is at a 45-degree angle which may result in bending of the wire.
Pros
Amazing sound
A nice handcrafted wooden design
Comes with carrying pouch
Cons
The headphone jack is at a 45-degree angle
Earbuds are a little heavy, so they are not suitable for workouts
3) Zipbuds SLIDE – Best Tangle Free Earbuds Under $50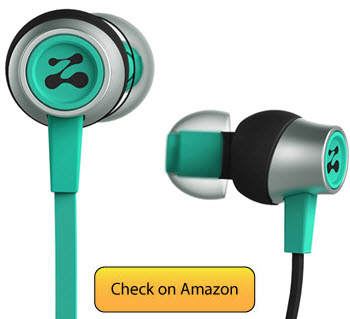 The Zipbuds SLIDE was the first earbuds to have a zipper-like mechanism to fix cables together and reduces tangles. These new Zipbuds SLIDE earbuds have been upgraded with a zipperless zipper cable, and they are the best tangle-free earbud you can get at the low price. These earbuds are very durable since they are designed with, as Zipbuds says, "Military Grade Bulletproof Fibers." The Zipbuds SLIDE come in various colors to fit your style. The Zipbuds SLIDE sounds like most any other earbuds in this price range, but overall the sound is not so bad. If you are very concerned about wire tangles and build quality, the Zipbuds SLIDE is a great pair of earbuds under 50 dollars.
Pros
Durable build quality
Tangle-free zipper cable
Cons
Mic is a bit far from the mouth
Should include a carrying case
4) Sony MDRXB50AP – Best Wired Sony Earbuds Under $50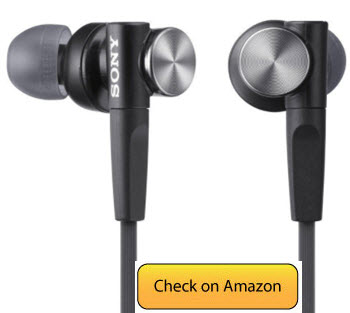 If you want some extra bass in your earbuds, the Sony MDRXB50AP are very good earbuds with Sony's popular Extra Bass feature. The design of these earbuds is very familiar since it has mostly been featured in previous products and recent headphones as well. The earbuds secure easily in the ears and provide very good isolation so that you can focus on your music. This isolation is also good for the extra bass which according to many users, doesn't interfere with other sounds in whatever you are listening to. The build quality may not be very good for some people and since these earbuds do not cost very much, so that must be expected from them.
Pros
Good sound isolation
Comfortable for long listening hours
Cons
Build quality is flimsy in some places
5) Skullcandy Method – Best Wireless Sports Earbuds Under $50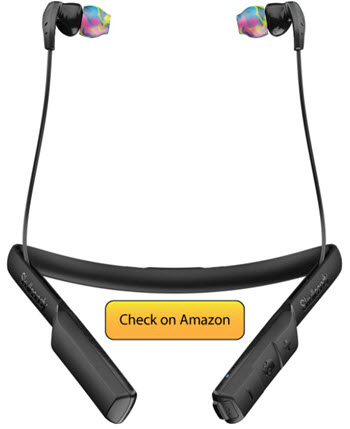 The Skullcandy Method is a very popular wireless sports earbuds which has a flex sports collar that keeps the earbuds secure while you are wearing them. Because of this collar, you can run, jog or basically do any workout and these earbuds will stay fixed in your ears. As with other Skullcandy earbuds and headphones, these Method earbuds sound fantastic. The sound has a bit bass in it, but it can be adjusted with the equalizer in your phone if you like. The microphone in these earbuds is also great for calls since they cancel background noise. The Skullcandy Method wireless earbuds come in different colors.
Pros
Sports collar makes earbuds comfortable
Sweat resistant
Excellent call quality
Cons
Earbuds collect dust inside over time
6) Sony MDR XB50 BS/B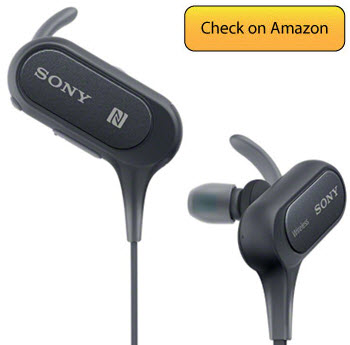 If you are looking for a really good pair of wireless Bluetooth earbuds under $50, then the Sony MDR B50 BS/B is the best one. This is the newer wireless version of the Sony MDRXB50AP earbuds that were mentioned before. While these earbuds are easy to pair through Bluetooth, they can also be paired through NFC on an Android phone. These earbuds also sound great since they have no grainy sounds which you would normally find in a cheap pair of earbuds. The Sony MDR B50BS/B earbuds also have a long battery life of almost 8.5 hours which means that you can go on long workout sessions, bike rides or just listening to music while relaxing for long times. These earbuds sit easily in the ears and won't come out if you move too much which makes it great for workouts.
Pros
Splash and sweat proof
Long battery up to almost 8.5 hours
Cons
Song skipping buttons are unresponsive sometimes
7) Xiaomi Mi In-Ear Headphones Pro HD – Best Earbuds under 50 Dollars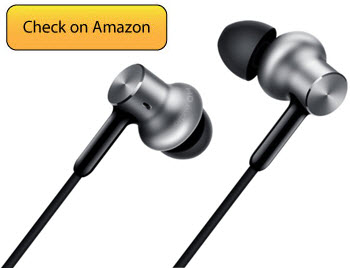 The Xiaomi Mi In-Ear Headphones Pro HD is another best product you can buy right now. The previous earbuds from Xiaomi have been very popular because of their incredible sound quality as well as premium design in a very low price. The sound drivers have been carefully designed to deliver crisp and clear sound. These earbuds are best for when you are listening to music while relaxing or on a long journey. The cable is made from TPE which doesn't allow wire bending and breaking. The earbuds and the volume controller are made from anodized metal which feels very premium. The included silicone earbuds are very durable and fit easily in the ears. If your needs are only to listen to music in the best sound quality, the Xiaomi Mi In-Ear Headphones Pro HD is the best choice for you.
Pros
Premium design and build quality at a low price
Crisp and clear sound
Cons
Volume controls only work in Android
Not suitable for workouts
Those were the best earbuds under 50 dollars you can buy from Amazon. You can find plenty of good earbuds in this price range, but we managed to filter the best devices based on the build and sound quality, user reviews and feedback stars from existing customers on Amazon. Let us have the best earbuds under 100 dollars. If you can invest some more money than 50 dollars, then better get the best headphone in 100 dollar price range. You will get a high-quality product with sound, design, and features.
Best Earbuds Under 100 Dollars (Worth Buying)
1) Shure SE215-CL – Best Lightweight Earbuds Under 100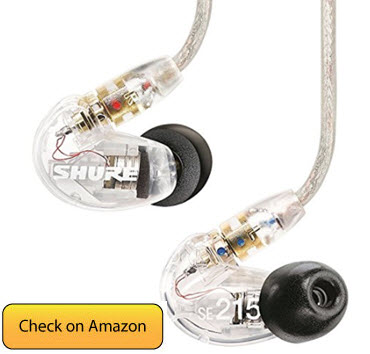 The Shure SE215-CL are a great pair of earbuds if you are looking for some professional-grade in-ear monitors. These may not be for everyone but if you like to have a very good sound quality that is close to being professional then you can give it a try. The Shure SE215-CL are made for sound engineers, musicians, and music producers, but they can be used by people who like to listen to music in high quality. The design of these earbuds allows them to be worn on the back of the ear so that they are securely fit in the ears. Due to noise isolation, the sound of these earbuds is great because you can get to focus on your music more than the noise surrounding you.
Pros
Detachable earbuds
Effective noise isolation
Cons
The different design might not be comfortable for some people
2) Brainwavz S3 – Best Noise Isolating Earbuds Under 100 Dollars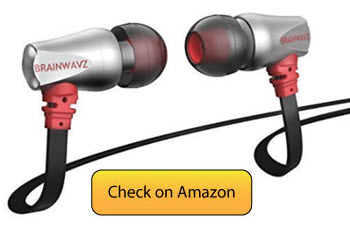 The Brainwavz S3 is a very underrated pair of earbuds that have very good noise isolation and a metal housing. The noise isolator works very well in providing excellent sound. The sound is very well balanced, it's not too loud or not too bassy, but you can change the equalizer settings according to your needs. The controls only work on iOS, but the microphone works very well, as good as the Apple Earpods. The metal housing on the earpieces looks and feels very premium. The cable is flat which reduces tangles and is of very good quality. Overall, if you don't want to think too much about earbuds, the Brainwavz S3 is a good option for earbuds under 100 dollars.
Pros
Very good noise isolation
Fewer tangles due to flat cable
Cons
Controls only work in iOS
3) Thinksound ts02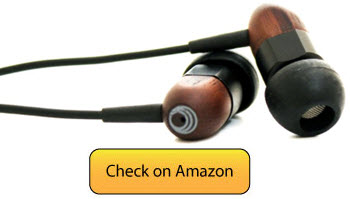 The Thinksound ts02 are good earbuds that deliver amazing sound thanks to the big 9mm drivers. It also has some wood on the earpieces that make it look very nice, and according to Thinksound, the "real wood housing is for enhanced bass and warm midrange". The Thinksound ts02 really does sound very nice, and if you buy these, you won't be going to any other earbuds.
Pros
Big drivers deliver amazing sound
Nice wood design
Cons
The wire can get tangled easily
4) Bose SoundSport – Best Weather Resistant Earbud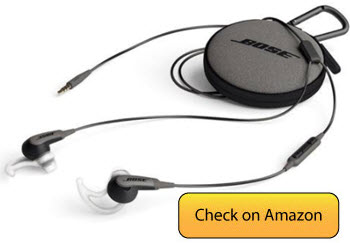 Bose is famous for its high-end noise cancellation headphones and earbuds. The Bose SoundSport are earbuds under 100 dollars that are more focused on sports. The StayHear ear tips fit securely in the ears, and the earbuds provide good noise isolation so that you can focus more on your music. The sound is very good for a pair of earbuds with sweat resistance. The sound is neither tiny nor too bassy. The StayHear ear tips are replaceable if you want a smaller or larger size and they are also available separately. The Bose SoundSport come in various colors and are available for Android and iOS devices separately.
Pros
Comes with carrying case
Sweat and weather resistant
Cons
StayHear ear tips may be uncomfortable for some people
5) Jaybird X3 – Best Wireless Sports Earbuds Under $100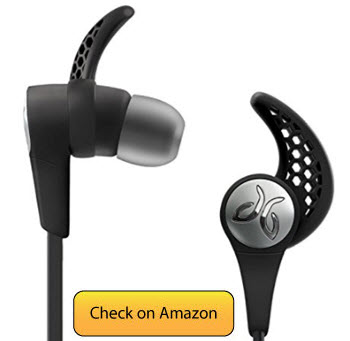 The Jaybird X3 earbuds are the most popular wireless sports earbuds in a good price range. They are the go-to earbuds of many fitness buffs as well as many other people for regular use due to the compact size and lightweight design. These earbuds stay secured in the ears using the ear fins, and they don't come out even if you are moving very much. The best thing about the Jaybird X3 is that they can pair with any Bluetooth device, not like other earbuds which have separate earbuds of the same product for Android or iOS. The Jaybird X3 sound very good, and compared to other earbuds, the small size of these earbuds doesn't reduce the sound quality. Some people with small ears have complained that these earbuds do not fit in their ears, replacing the ear tips and ear fins would help.
Pros
Quick Bluetooth pairing
Up to 8 hours of battery life
6) 
Sennheiser HD1 In-Ear Headphones (iOS version)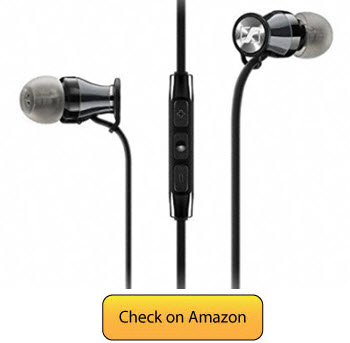 Sennheiser is the most popular manufacturer of high-end earbuds and headphones. The Sennheiser HD1 is a very popular pair of earbuds that is available for iOS separately. The earpieces are made from stainless steel which is how these earbuds sound very good and also makes them very light so that you can enjoy listening to music for longer periods of time. These earbuds have passive noise isolation so that you won't get disturbed by the noise in your surroundings. The cables are oval-shaped to reduce tangling, but it doesn't remove this problem. The sound of the Sennheiser Momentum is great, but at times, the treble feels a bit weird in some songs.
Pros
Lightweight design
Amazing noise cancellation mic
Cons
Separate versions for Android and iOS
Treble can be weird at times
7) 1MORE Triple Driver In-Ear Headphones – Best Earbud Under 100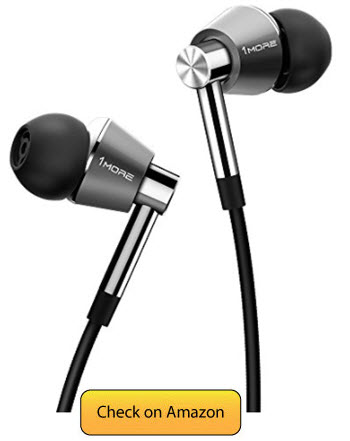 1MORE is a new company that has been making amazing earbuds. This pair of earbuds, the 1MORE Triple Driver earbuds have a unique three sound driver system that makes it deliver the best sound you would ever experience from a pair of earbuds under $100. The earpieces are made from aluminum alloy, which makes them ergonomic, and they don't hurt your ears. The triple driver system delivers an amazing sound which most other earbuds in this price range are not able to deliver.
Pros
Unique triple driver system delivers amazing sound
Noise-canceling microphone is great for calls and voice recognition

Cons
First time listening may require changing equalizer settings on your phone/tablet
Earbuds are essential for any music lover. The best thing about them is that they isolate you from the noise surrounding you so that you can enjoy your music peacefully. Here were the best earbuds under 50 dollars and the best earbuds under 100. Cheaper earbuds are getting better, and there is a wider variety to choose from. There are a lot of new companies that are designing different and unique earbuds to suit your needs. Whether you need earbuds for your workout sessions or just to listen to your music while relaxing, the earbuds in this list are sure to be the ones you were looking for.