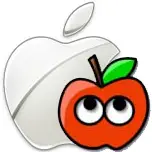 iBoot is another good boot loader to install Mac OS X on Physical Intel computer or desktop virtualization software Oracle VirtualBox. Follow this method if you failed with EFI Boot loaders or any. This post explains How to iBoot loader with VirtualBox to Install Snow Leopard and upgrade to latest version 10.6.4.
This boot loader looked pretty good and I'm hoping this will work with most of the 32 bit and 64 bit Intel processors, not sure for AMD.
Required Products
1) Oracle VirtualBox latest version
2) iBoot boot loader ( Its is available here)
Download all three versions. Use the correct ATI or NVIDIA version depends on your physical display card. If nothing works then use 'supported' version.
In this example I uses NVIDIA version.
3) Get Mac OS X Snow Leopard DVD here or  ISO file. ( if you have physical DVD, better make it ISO)
4) Make sure Virtualization Technology (VT) enabled on physical computer BIOS, Read here.
As usual I'm showing this on my Intel Core2duo 2.66GHZ, 3GB, Windows 7 32 Bit computer.
This boot loader works with Intel processors only, it may fail for AMD users.
Follow the steps to use iBoot loader on VirtualBox.
1) Create a new Virtual machine.
Select Mac OS X Server as guest OS.
1.5GB RAM, 20 GB new hard disk (Attach it to SATA)
VT, Nesting Pageing and PAE enabled.
Remove EFI boot loader option under system. (To avoid booting from VirtualBox built in EFI loader)
Allocate Video memory to maximum and select 3D acceleration under Display option.
See Also
How to install Mac OS X Snow Leopard on VirtualBox with empireEFI Boot loader.
How to install Mac OS X Leopard 10.5 on VirtualBox with pre-installed VMDK image.
2) Mount appropriate iBoot boot loader ISO to CD Drive through Virtual Media manager.
3) Switch on Virtual machine. You can see a screen as shown below, waiting for user input. Don't press any keys.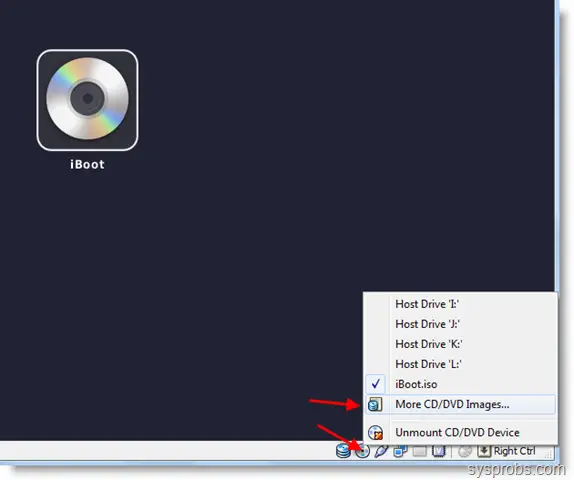 4) Now unmount iBoot ISO and load Mac OS X ISO file. To do it,
Right Click on CD icon on VirtualBox console and select More CD/DVD Images option as marked by arrows.
In Virtual media manager, browse for Snow leopard ISO file and press OK. When you see the same screen again, Press F5 to refresh CD ROM then ENTER Key.
5) I'm sure first installation screen will start normally.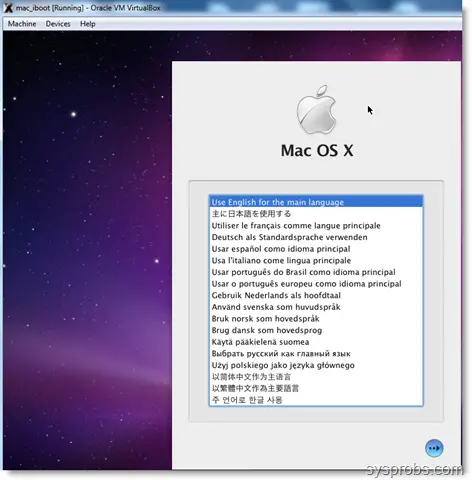 6) When no disks listed for installation the go to utilities, disk utility and select virtual hard disk. Create a partition and give a name. Close the disk utility box once all done; newly created partition will be appeared for installation now. Select it and continue installation ( on same screen select customize and remove printer drivers and language option to save time and disk space)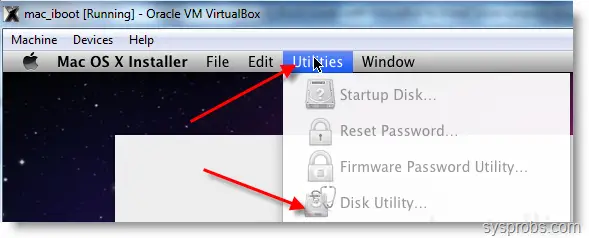 7) Have you got "Install Failed" message at end of installation? Don't bother.
Just restart the virtual machine, that will also not work. You have to do it from VB console (Machine-> ACPI Shutdown and power off)
8.) Make sure to load iBoot boot loader to CD ROM before it starts, if not
"FATAL: No bootable medium found! System halted" error will appear.
Mac OS X requires proper boot loader to boot from disk on non apple hardware.
9) On next screen, press Right Arrow Key, select Mac hard disk and ENTER.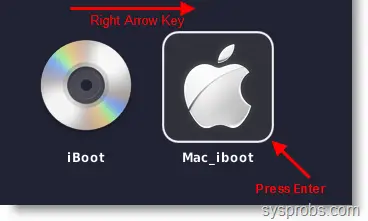 10) There you go! It will start with identifying keyboard (ignore it by pressing escape key) and first initial configuration. Finally you land on working snow leopard desktop with VirtualBox and iBoot.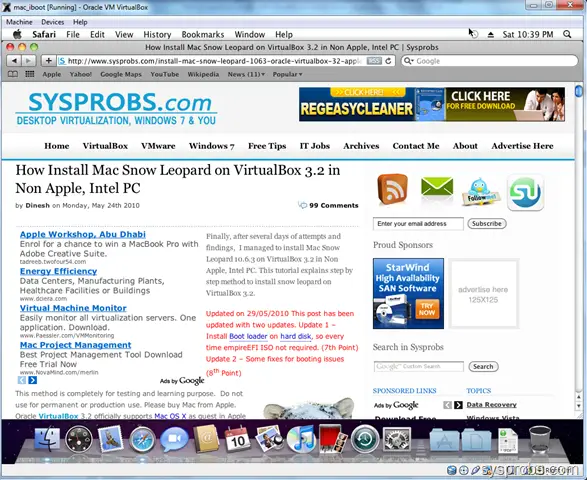 11) Some post installation configurations and checkups.
Network – Worked out of the box.
USB support, 10.6.4 update (Manual or software update), Shutdown and Restart problems, and Shared folders between Mac OS X Guest and Windows Host – Please check this earlier post.
12) Boot from Hard Disk without iBoot boot loader
Make sure you take a snapshot before continue.
To boot from hard disk, you need to install a package called 'MultiBeast'. Either download it from inside Mac VM or transfer from USB disk. After unzipping open MultiBeast.pkg.
Under custom install select 'EasyBeast for Supported CPU' option which supports Intel i5,i7, core and core2 CPUs. Description for each option can be viewed at bottom of box.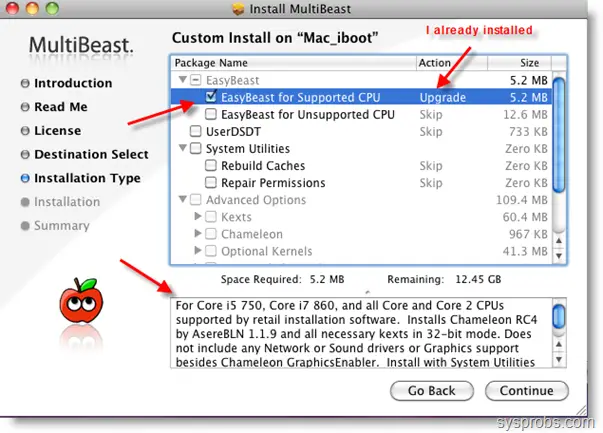 Do not press continue button, go to next step for more settings. (I already installed it, so getting Upgrade option)
13) Screen Size of Snow Leopard Virtual machine
Each boot loaders install separate com.apple.boot.plist file to get special feature options during boot up. Install this file to change screen size resolution.
In same Multibeast custom installation, go to advanced options and click on com.apple.boot.plist.
Either select Verbose or Apple boot screen mode but select correct bit version. I selected 32 Bit Apple Boot Screen since my host is 32 Bit and any time I can type –v on booting screen to get verbose mode.
Once installation completed, follow the steps here to change screen resolution of Mac VM.
14) Sound
Several sound driver installation options available under Advanced options -> Kexts -> Audio. I had a hope and tried all, but nothing worked. These kexts made Mac OS X to talk directly to physical sound, network or graphics chipsets, but it's not possible under desktop virtualization. VirtualBox can't pass signals to physical hardware as it doesn't support Mac OS X guest officially.
With little bit hope you can visit this sound driver page and install it.
I'm happy with this driver as long as I hear some sound and identify it.
That's it. Installation and post configurations are done. Please note, you can't get all features from this Virtual machine and it's not recommended for long term use.
I suggest using it for learning purpose before you buy original hardware and software from Apple.
Share your success and failures of this installation method.
Subscribe to sysprobs and follow me to get latest updates on desktop virtualization.
Have Fun