If you are looking for the pre-installed Mac Snow Leopard VMware image, then this post will be useful to find out the correct one and show the steps in installing Snow Leopard on VMware Player or Workstation. In this guide, we talk about the Mac 10.6.4 Snow Leopard which can be upgraded to a certain level in VMWare on your Windows computer.
The following method is completely for testing and learning purpose only. Do not use in the production or permanent use. Obviously, we can't expect a good performance inside the VM, but overall it will be a good experience to learn and test macOS on Windows computer.
We have already mentioned several guides to install Mac on Windows computer by using virtualization technology, you can check them here to find out the latest version.
Installing the Mac OS on VMware which is based in Intel-based is not straight forward. You need to prepare the installation medium on a real Mac computer (or in a working Mac OS X VM), setup the proper boot loader, patch the VMware software, and modify the VMX configuration file. To avoid these all steps, we can use the preinstalled image as shown in this guide.
Why Pre Installed Mac Snow Leopard Image?
Easy to import in VMware and start using it.
Mac Installation already is done, DVD or ISO not required.
Saves your time by avoiding installation and patching for x86 computers.
Drivers already installed. Sound, Network and Screen resolution working fine in this image.
Updating to other versions working well.
Not required to install any boot loaders.
My PC Configuration;
I have done the below demonstration on my Intel computer which has the following configuration.
Intel Core2Duo 2.66GHz
3GB DDR2 RAM
Intel P35 Chipset
Windows 7 32 Bit Host
Required Products: Mac 10.6.4 Snow Leopard on VMware
I'm going to install and run this image in VMware Player 3 because somehow I feel VMware Player works better than VMware workstation (This was my observation when I did this test, but with the latest releases of VMware versions, it should work fine on any of the recent products). I have published similar posts about installing Leopard on VMware and Oracle VirtualBox with a pre-installed image earlier, you can check the links below.
Install Mac 10.5.5 Leopard on VMware Workstation
Install Mac 10.5.5 Leopard on Oracle VirtualBox
Products Needed:
Latest VMware Player or VMware workstation.
Snow Leopard VMware Image (It's a torrent download. Size of 2.3GB (without VMware workstation) approximately with 7z compressed format.)
Read this post and make sure VT is enabled on host computer BIOS. This image required VT enabled.
Installation Steps
1) Extract the Image. It contains VMX, VMDK and other tools required.
2) Make sure hardware VT is enabled.
3) Open Mac OS Snow Leopard.vmx file in VMware Player.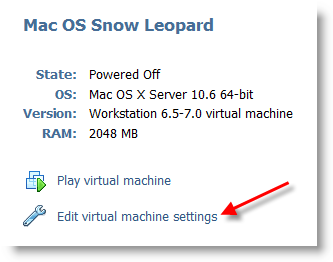 Edit virtual machine settings as you like. I suggest increasing the RAM and number of Processor Cores. If Mac OS stuck with any kernel errors then change processor core to one. Do not change any more settings in virtualization engine under processors.
4) That's it. Power on the virtual machine. I'm sure you will get Snow Leopard desktop without any problems. Do not worry about the language you see on the screen. I already changed it to English. Follow the steps below to change the language inside the virtual machine.
5) Click on Preferences icon on the desktop.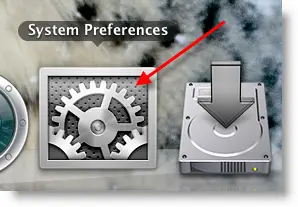 6) Click Languages icon.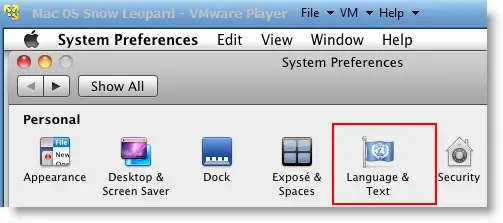 7) Press Edit List button and remove unwanted language and leave U.S English. Also, go to Formats and change the region that matches your location.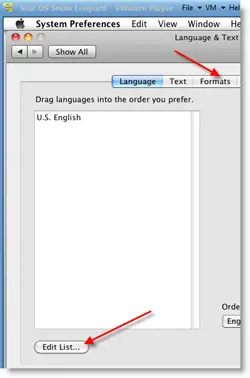 Log off and log in, you will see the U.S English desktop and menus.
8) Admin Password for Image
Admin user name for this image is svp and the password is 123.  You can use this 123 password to reset a new password for root.
9) USB devises Access
Yes, it worked. My external USB hard disk and flash disks worked inside Mac Virtual machine without any glitches. I had to mount the external hard disk in disk utility to make it work.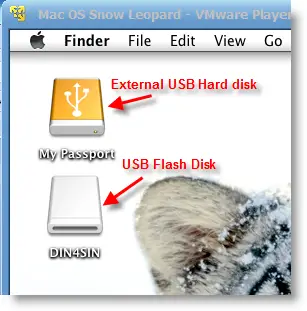 10) Network
Bridged and NAT network worked out of the box without any patches in this image.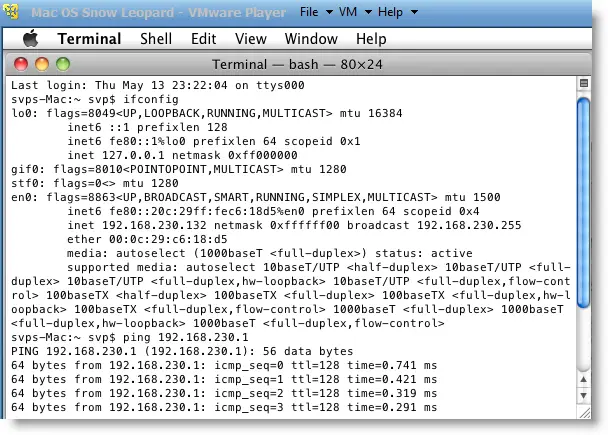 11) Multiple Screen resolutions and Wide Screen support available on this Mac Snow Leopard Virtual Machine. The best part is, if you change the VMware Player screen size, Snow Leopard screen size also changes according it to fit the screen.
Check my earlier post here to learn how to install multiple screen resolutions in Mac VMware virtual machines.
12) Sound
For some reasons, the sound did not work for me straight away. If it doesn't work for you, go to the extracted folder (from the download), locate the SVP folder. Install EnsoniqAudioPCI.mpkg in Mac virtual machine. Restart the machine after installation. The sound will work after it.

13) Software update to Snow Leopard 10.6.3
This image is having updates up to 10.6.2. Software update to 10.6.3 worked without any issues in this image. I downloaded 10.6.3 combo updates from Apple site and updated successfully.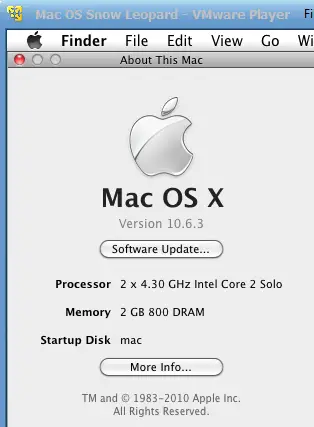 There you go, you have a running Mac Snow Leopard on VMware Player/VMware workstation in normal Intel PC. I'm sure this will work on the all latest Intel processors as long as hardware virtualization (VT) support available.
Here is a screenshot of working Snow Leopard on VMware Player with this pre-installed VMware image. If you are using it on VMware workstation, you will be able to take snapshots. That will be helpful to revert back the VM state if anything goes wrong.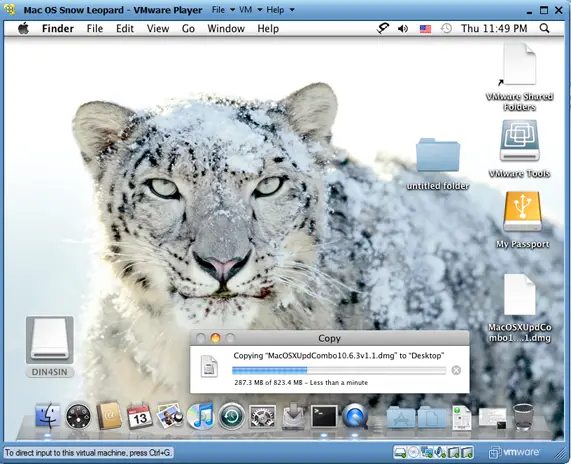 14) Booting Issues
If the booting process stuck with the Apple logo, you can try this method.
Shut down the VM completely, open Mac OS Snow Leopard.vmx file in a text editor, look for smc.present="TRUE" line. Change this value to FALSE. So, it should be smc.present="FALSE".
This step may solve booting issues, slow booting and keyboard, mouse delay.