Do you want to know how to download macOS combo updates manually? This guide covers various macOS versions' latest combo updates and new features.
Usually, macOS will automatically update via the Apple App Store. However, in some instances, that may not happen. These cases include when you're a Hackintosh user or an IT geek. Additionally, bugs in the current version may prevent automatic updates.
Hence, here's how to manually download the macOS combo updates from the official site. All of the updates mentioned here are the latest as of July 2022.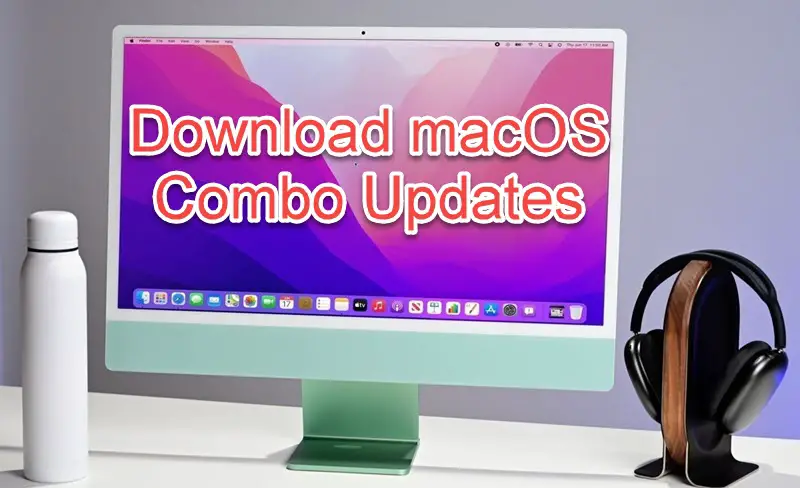 Manually downloading the macOS updates separately and keeping those DMG files is an excellent way of dealing the Mac computers that don't have good Internet. Also, if you need to deal with the OS X update with multiple computers, keeping the combo update DMG in USB or network share becomes handy to update them quickly.
What is a Combo Update?
A combo update is an update that includes all the changes made since the original release of any major version. This type of update reinstalls the drivers and files from previous versions. In short, a combo update contains all the minor updates made in a particular version of macOS.
Whenever Apple releases any system update, it does so in two forms: a delta update and a combo update. A delta update can only be updated from the previous version. You can only update macOS 10.8.2 if you already have the 10.8.1 version.
A combo update, on the other hand, updates your macOS up to the latest version. So, a 10.8.2 combo update can be done from either the 10.8.0 version or the 10.8.1 version.
In the same light, the 10.7.5 update can be run on all systems from 10.7.0 to 10.7.5. This is a great way for Apple users to automatically get all the updates up to the latest version.
Related: How to reset Terminal on macOS
Advantages of macOS Combo Updates:
Why should you go for the combo updates instead of the delta updates? Here's the reason:
A combo update is easier if you want the latest update but don't have the version directly preceding that update. For instance, there have been 4 updates to your current version. A combo update will automatically run all 4 updates without you having to do so manually.
The combo update will fix the problem if anything has gone wrong with any previous updates. A combo update will re-run the update and fix any bugs and issues that may have occurred in prior updates.
For people working with many computers, combo updates are an easier way to update the computers in bulk. You won't have to worry about running the delta updates.
Manual Download macOS Combo Updates from the Official Site
macOS X 12.4 (Monterey) Combo Update:
Monterey is the latest macOS version and introduces Shortcuts and Universal Control.
Monterey is a newer macOS version for which the latest combo update is the macOS Monterey 12.4. This update has many new features, including bug fixing and better state management.
In short, the Monterey combo update includes:
Fixed a bug that caused memory corruption.
Resolved an issue with the buffer overflow.
Updated the apache to version number 2.4.53.
The bounds checking was improved to address an out-of-bounds reading issue.
Checks were improved for the Contacts app for security purposes.
Resolved a problem with the memory initialization.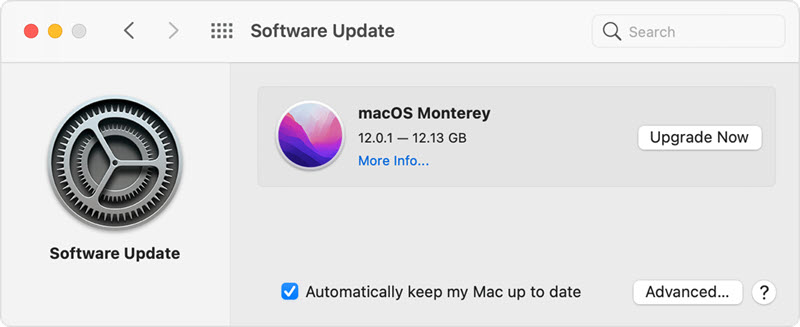 macOS X 11.6.7 (Big Sur) Combo Update:
After Big Sur, the version name was changed entirely and introduced Universal apps.
Big Sur is an old macOS version. Still, this macOS 11 update will fix many bugs and security issues. The update is available for any user running the OS and in the Software Update if you're running that.
Related: macOS Big Sur VMware VMDK file download
The update has the following features:
Resolved an issue where Mail and other apps would not open attachments if the app for opening the branch was already running.
Although this update has only one fix, it's still a major leap for many users as the bug was very annoying.
macOS 10.15.7 (Catalina) Combo Update:
With Catalina, the iTunes app split into the Music, Podcasts, and Movies apps.
Download this update for people running the macOS 10.15, also known as the Catalina, on their devices. It's a combo update that includes many new features and security updates.
With this update, you get the following bug fixes:
Fixed a bug where files would not be properly synced through iCloud Drive.
Resolved a bug where your macOS would not connect to Wi-Fi networks automatically.
Fixed a graphic issue with the Radeon Pro 5700 XT on certain iMac models.
However, some of these features are not available in all regions. So, you should always double-check the availability.
macOS X 10.14.6 (Mojave) Combo Update:
Mojave brought about Dark Mode and a Dynamic Desktop feature.
This update is for people running the Mojave macOS.
It includes:
The ability to clear all downloaded issues of magazines acquired from Apple News+.
Fixed an issue where the device would hang during a restart.
Fixed a graphics issue that would occur when waking the mobile.
Better reliability of sharing files over SMB servers.
Fixed an issue where new Boot Camp partitions could not be created with Fusion Drive.
Resolved an issue where the full screen on Mac mini may appear black.
Added all publications and newspapers in Apple News+ above the News+ feed.
Made downloaded issues accessible in My Magazines.
macOS X 10.13.6 (High Sierra) Combo Update:
Mojave brought about Dark Mode and a Dynamic Desktop feature.
This combo update for High Sierra users (macOS 10.13) is perfect.
The combo update includes the following improvements:
Resolved an issue where the Photos app may not recognize AVCHD media imported from select cameras.
Resolved an issue where messages could not be moved from Gmail to other accounts for Mail users.
The AirPlay 2 multiroom audio support has also been added to the update. This includes the following features:
Take control of all your home audio and AirPlay 2-enabled devices.
Synchronize the music playing on all your AirPlay 2-enabled devices throughout the house.
Related: Solutions to fix Cannot Parse Response in Safari Browser on Mac
macOS X 10.12.6 (Sierra) Combo Update:
Sierra introduced more iOS features and a name change to macOS.
The macOS Sierra 10.12.6 combo update is best for macOS 10.12 users. The OS, also famous as Sierra, can be improved with this update. It includes bug fixes, compatibility improvement, and better connectivity.
The update features:
Better stability of the Terminal app.
Resolution of an issue where Xsan clients would suddenly restart if you moved a file in a Quantum StorNext File System inside a relation point.
Fixed an issue where certain SMB connections could not be made through Finder.
OS X 10.11.6 (El Capitan) Combo Update:
El Capitan improved performance and speed, 40% faster than older systems.
This combo update is ideal for users running the El Capitan OS.
The OS X 10.11.6 combo update includes:
Fixed an issue where your settings would not be saved in your account if you had Parental Controls.
Fixed a bug where some network devices could not access SMB share points. This issue was prevalent in speakers and MFPs.
The Enterprise version also includes:
Better startup time when you connect to a NetBoot server.
Fixed an issue where Active Directory authentication would take longer than usual.
Fixed an issue where startup would not occur from a NetBoot image created with certain OS installers.
OS X 10.10.5 (Yosemite) Combo Update:
Yosemite brought about the biggest redesign in the history of macOS. It completely changed the design to match that of iOS better.
This combo update is perfect for users running OS X Yosemite. It has many new features, including security, compatibility, and reliability. Additionally, it fixes several bugs for convenience and functionality. You can download the OS X 10.10 Yosemite combo update here.
With this update, these are the features you get:
Resolved an issue where videos shot on GoPro cameras could not be imported to Photos.
Improved compatibility when accessing select email servers through Mail.
Fixed a bug where Windows Media files could not be played correctly when using QuickTime Player.
OS X 10.9.5 (Mavericks) Combo Update:
Mavericks introduce many new privacy features, including password encryption.
This update is for you if you're running the Mavericks OS with the version number Mac OS X 10.9. It features stability, security, and compatibility improvements.
This update entails the following features:
Better reliability when connecting with VPNs that use USB smart cards in the authentication process.
Includes Safari 7.0.6, an updated version of the popular browsing app.
Better reliability when accessing files that are on an SMB server.
OS X 10.8.5 (Mountain Lion) Combo Update:
The OS X 10.8 Mountain Lion is a successor to the Lion. It includes many major apps like Notes, Reminders, and Messages.
This update is ideal for all Mac OS users running the Mountain Lion operating system. It features a better reality, stability, and security for your Mac device. Downloading this combo update will heavily improve a lot of the features of your Mac device. 
The update includes the following:
Resolves an issue where Mail may stop displaying messages.
It fixes an issue where the screen saver may not start up automatically.
Enhances the reliability of Xsan.
Better AFP file transferring performance when over an 802.11ac Wi-Fi network.
Here is the video about how to update macOS (combo or delta) manually:
Mac OS X 10.7.5 (Lion) Combo Update:
The Mac OS X 10.7 Lion is an upgrade to the Snow Leopard and features multi-touch gestures.
This update is the best for users using the Mac OS X 10.7, also known as the Lion. It's a combo update that includes Gatekeeper, a new feature that keeps your device safe from viruses.
Read Also: How to install Mac OS Lion on VMware with Windows PC
The Mac OS X Lion combo update includes the following:
Gatekeeper is a feature that gives you control over what apps you install.
Improved Wi-Fi reliability for versions of iMac from 2009 and newer.
Fixed an issue when searching through an SMB server through Spotlight.
Fixed a case in which the icons in the Launchpad would get unexpectedly rearranged after restarting.
Better compatibility when connecting with Active Directory servers.
Mac OS X 10.6.8 (Snow Leopard) Combo Update:
The Snow Leopard Mac OS X 10.6 is a successor to the Leopard OS. It is an expansion of the 64-bit architecture.
If you have the macOS X 10.6 version, also famous as the Snow Leopard, this update is for you. It is for all users that are currently running Snow Leopard. It has new features like general OS fixes and stability improvement.
So, what new features does this update offer?
This update enhances the Mac App Store so you can readily update to the Mac OS X Lion.
The update also fixes the issue where Preview may unexpectedly quit for some users.
You also get better VPN reliability with this update.
The update identifies and actively removes known variants of Mac Defender.
Finally, the support for IPv6 has been improved.
Final Thoughts:
Updating your macOS timely is essential to avoid bugs and security concerns. And combo updates make that a lot easier by downloading all the relevant updates up to a particular version.
However, downloading these updates can be tricky. If your computer doesn't automatically update from the App Store, you'll have to find the updates manually. Lucky for you, we hunted down the latest versions of combo updates for all the main macOS versions.
Now that you have the relevant links with you, it's time to update your macOS version once and for all!