This article shows how to install Mac OS X 10.7 Lion on Oracle VirtualBox with a normal Intel computer. Booting a VM by the default installation DMG file is tricky on non-apple hardware.  Please note this is just for testing and learning purposes only. This method is not recommended for production or for long term use.
Note: The 2011 edition of this guide is still up-to-date, but it's worth noting that the information included was originally published in a different time period. For those looking to try out OS X 10.7 on their latest or old hardware–you've come to the right place!
My PC Configurations:
Intel Core2Duo 2.66GHz, 3GB RAM and Windows 7 32 Bit Operating System. Hardware Virtualization Technology (VT) is enabled and the processor supports 64-bit technology.
What do You need?
1) Oracle VirtualBox
2) The pre-created Lion OS X installation disk.
This is a very important part of this installation. The ordinary installation DMG file you download from Apple or any torrent sites will not work here. We need to modify some packages and create a new disk that can be booted in VirtualBox or VMware.
For this process, you must have a working Snow Leopard OS on a physical or virtual machine.
The steps are already mentioned on our website, please check this guide on creating a bootable Lion OS X disk.
The same bootable 10.7 OS X disk was used to boot and install Lion OS in the VMware workstation.
The bootable Lion OS X disk can be created in two methods:
a) Create as a VMDK or VDI file. So this file can be attached to the virtual machine to boot the Lion OS X. This virtual disk file can be used in VMware and VirtualBox whenever needed.
b) Create an ISO file. This is also an ideal method to use in all virtualization software and physical computers.
3) Minimum 1GB memory to Virtual machine.
4) VT and 64bit supported processor. Check this guide and make sure your computer processor supports these features.
5) Download the boot loader which can boot the Lion OS in VirtualBox. The HackBoot.iso was uploaded by us, which is safe for download.
How to Install Lion OS X on VirtualBox
1) Make sure that the VT-x is enabled. If it's not enabled, then enable it in BIOS and confirm the host Operating System is detecting it.
2) Create a new virtual machine. OS type is Mac OS X, the version should be "64bit".

3) Set the memory size to a minimum of 1GB, 2GB is recommended.
4) Create a virtual hard disk, the minimum size is 20GB.
5) Here is the System settings of my virtual machine.
You can deselect the floppy drive.
Make sure 'Enable IO APIC" and others are selected as shown below.
Remove the "Enable EFI" option. Leave the ICH9 chipset as default.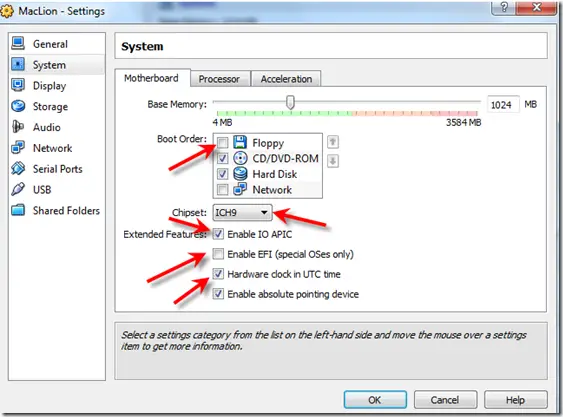 Under Acceleration, "Enable VT-x/AMD-V" and "Enable Nested Paging" should be ticked.
If the Acceleration tab is missing in your VirtualBox settings, that indicates the VT-x is not enabled on the host computer BIOS.

Processor Settings:
This is slightly tricky. My processor is Core2Duo, so I could select 2 processors. Unfortunately during the installation, the virtual machine crashed. I had to put it back to 1 processor (core). If you are using an Intel i-series processor you can increase the numbers up to 4. Increase to maximum and try, if it doesn't work then you need to change to a single core (1 processor).
6) Attach the bootable ISO or VMDK file to the virtual machine. We need to attach the  Hackboot.iso to the CD drive and boot with it.
If you are trying to install with a bootable VMDK file (like me), here is the configuration you can refer to.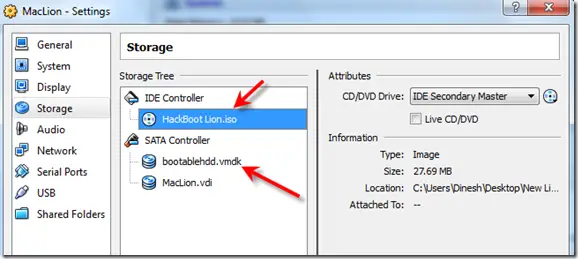 If you try with an ISO file, then no need to add the 'bootabelhdd.vmdk' file.
7) Start the Lion OS X virtual machine now.
It will boot with the HackBoot.iso file.
If it's from the VMDK file, select the disk by pressing the right arrow key on the keyboard and hitting ENTER.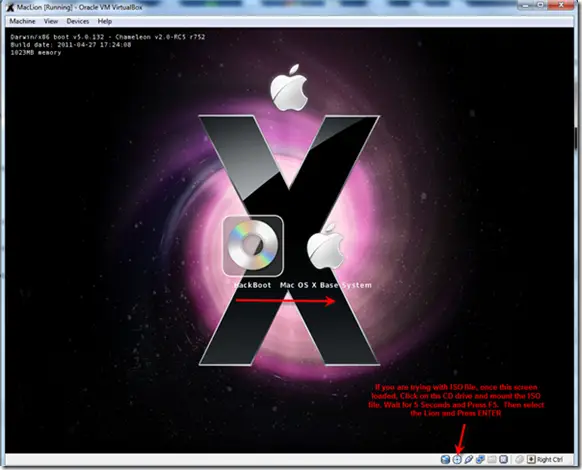 If you are trying with ISO file, then once the above screen loaded, click on the CD icon of VirtualBox console and browse the Lion bootable ISO file.
Wait for 5 seconds and press F5 to refresh the loaded CD, select it and press ENTER to start the installation.
8) The first screen should start normally. Select the language and continue.
9) If you do not see the virtual hard disk to install, then it should be created in Disk Utility during the installation.
Click on 'Utilities' and select 'Disk Utility.'

Press Apply and close the disk utility box.
Now you should be able to see and select the newly created partition for installation. Select it and begin the process.
10) After the installation, an automatic restart will be attempted but it will not work here. The virtual machine will stop with the following screen which is ready for a manual restart.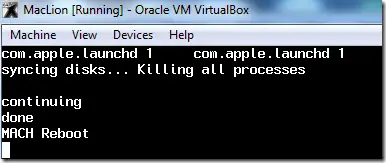 Reset the virtual machine from the menu. It may give a guru meditation error sometimes. Do not worry, just close the virtual machine.
We need to start the VM now, so load the HackBoot.iso file again to the CD drive if it was removed during the installation. In case the virtual machine hangs with a grey color screen now, do restart again.
11) After a few initial settings, you must land on working Lion OS X desktop in VirtualBox.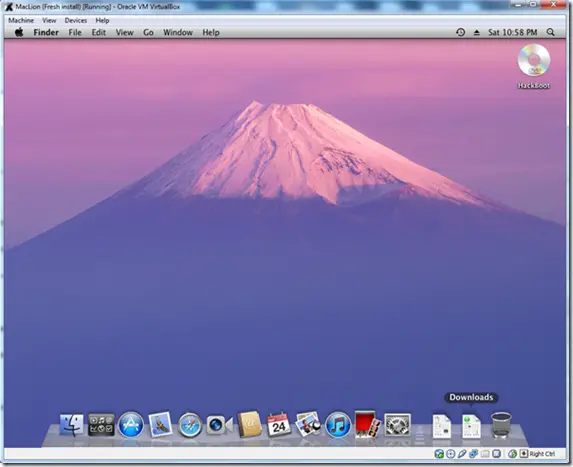 The performance of Lion OS X in VirtualBox is manageable. I could play around with a few new changes and applications.
You must consider two issues now:
a) Shutting down and restarting the Lion VM– This will not happen automatically. Once the black screen appears (shown in Step 10), it's safe to shutdown or reset from the VirtualBox menu.
b) About the Mac – If you try 'About the Mac' inside the virtual machine, it will not work. The virtual machine may crash.
As mentioned earlier, use this method only if you really need to use the old Mac OS X 10.7 Lion on VirtualBox. There are many ways to use the latest macOS on VMware of VirtualBox with the latest i7 or i9 computers.