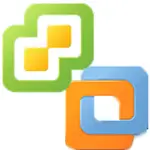 Maintenance release of VMware Workstation 7.1.1 officially supports server virtualization product ESXi 4.1. These updated versions enable us to run both latest products on Windows 7 computer without any physical servers. It's a great chance for system and infrastructure administrator IT guys to experiment and play around with latest ESXi version on home or office PCs. This post shows how to install VMware ESXi 4.1 on VMware workstation 7.1.1 with Windows 7 host. Also this time you must download the management vSphere client 4.1 separately from internet to manage.
I'm using my Windows 7 32 Bit computer with 3 GB physical RAM to demonstrate these steps. Really it's nice to have hypervisor server on a computer and work like a small data centre.
Make sure to allocate 2GB RAM for ESXi virtual machine and your host supports Virtualization Technology (VT). More information about How to enable VT.
Read the release note of VMware workstation 7.1.1
Read the release note of VMware ESXi 4.1
Before Start
1) Check the host compatibility ( RAM and VT)
2) Download latest ESXi 4.1 from official site.
3) Download vSphere Client 4.1. (Link available at down on this post).vSphere client management package is not available on installed server. It should be downloaded separately.
How to Install VMware ESXi 4.1 on VMware Workstation 7.1.1
1) Create a new virtual machine and point the downloaded ISO file, it automatically detects OS version.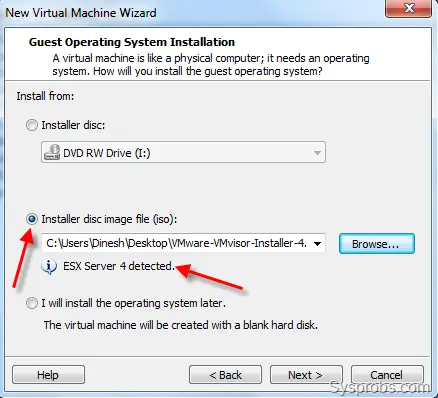 2) Other settings are normal and once it detects OS, it sets the rest of the settings automatically. You can change them later, but don't change the RAM less than 2GB.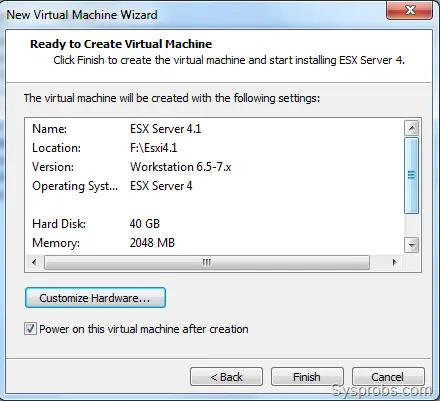 3) Follow the other installation steps mentioned in ESXi4 on VMware Workstation with Windows 7 host
4) I have configured host only network and set server IP to 192.5.2.200. It opened as below on Google Chrome browser.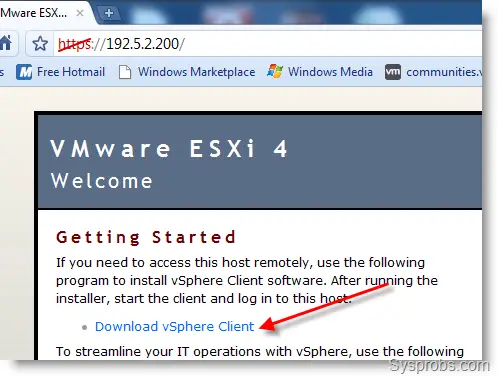 This version doesn't have vSphere client 4.1 package on local ESXi 4.1 server. Once you click the link, it will take you to VMware site for downloading.
Otherwise, download the VMware vSphere 4.1 client version from direct link below.
http://vsphereclient.vmware.com/vsphereclient/2/5/8/9/0/2/VMware-viclient-all-4.1.0-258902.exe
5) Install it and connect with server IP, user name (root) and password.
Here is the screenshot of connected vSphere 4.1 client version to VMware ESXi 4.1 server which is running on VMware workstation 7.1.1 on my Windows 7 32 Bit host computer.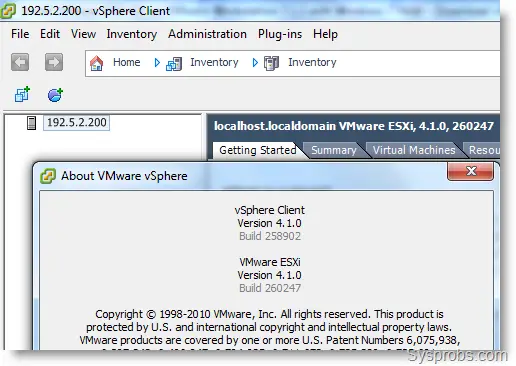 Installation is very simple and straight forward, only thing is, it doesn't have client package. You must download it from internet.
To modify the download link and make it download from locally saved location for other users, you can modify the clients.xml file on server.
Read this post to modify download location on vSphere 4.1 client
Have any trouble? leave a comment.