FreeNAS is a NAS Operating System which can make a computer (physical or virtual) as a Network Attached Storage (NAS) and media server. It is a free and open-source Operating System based on FreeBSD and OpenZFS file systems.
In this guide, we installed FreeNAS on Oracle VirtualBox and prepared the pre-installed VirtualBox image for quick setup.
By using this image, you can virtualize your host computer and its physical disks to make it an open-source NAS. It simply creates centralized and easily accessible network storage at your home or office without additional hardware.
FreeNAS and OpenZFS allow you to protect, backup and store all kinds of data at the central location over the network. Even it can work as the best home media server to stream the stored media files like movies, songs and podcasts.
Advantages
FreeNAS has a userfriendly web interface and secure file sharing option. Also, with the ZFS open source file system, we can manage the RAID, and volumes, and maintain the data integrity. In production, FreeNAS is available as a hardware box with physical disks, but their OS is freely available to download and install on most Operating Systems and any virtualization platform.
Earlier, we used FreeNAS as a virtual machine and used the storage to create a Windows failover cluster. It is an ideal way to install as VM and experiment the FreeNAS OS and its features.
How to Use?
The below image has the only Operating System disk. You need to add a few more virtual hard disks (VDI) to the virtual machine to create disks, pools and shares by using this image. We already talked about how to install FreeNAS on VirtualBox and create shares. Do check the guide to learn more about adding new disks and creating network shares in FreeNAS.
Working Screenshots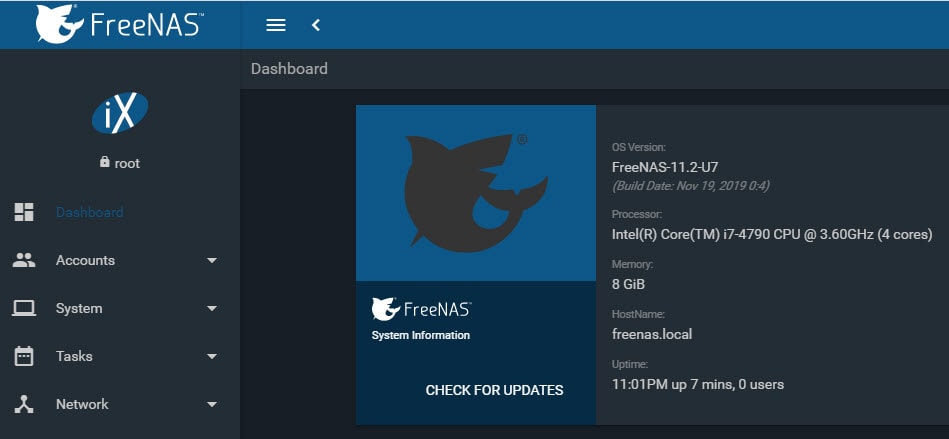 Download FreeNAS VDI Image for VirtualBox
Username: root
Password: sysprobs
Platform: 64Bit
OS Update: Installed (as on 05/12/2019)
​VB Guest Additions Tools: Not Installed
Minimum VM Config: 2 VCPU, 8GB RAM
Language: US English