Once you have the correct version of Outlook and Microsoft Teams on a computer, the add-in should appear in the Outlook menus and options automatically. But in case, if it does not appear in the Outlook, let's see how to fix it.
Microsoft Teams is a cloud-based collaboration tool that is part of the Office 365 suite. If you have Office 365 license at your home or workplace, based on the specific rules/policies set by the administrator, the MS Teams will work on your computers or other devices. Teams and Outlook integrate between them very well. Usually, the Teams add-in icon should appear in several places in Outlook once they talk to each other without any issues. How to fix if the Microsoft Teams Add-in not showing in Outlook? Here are the assumptions and steps.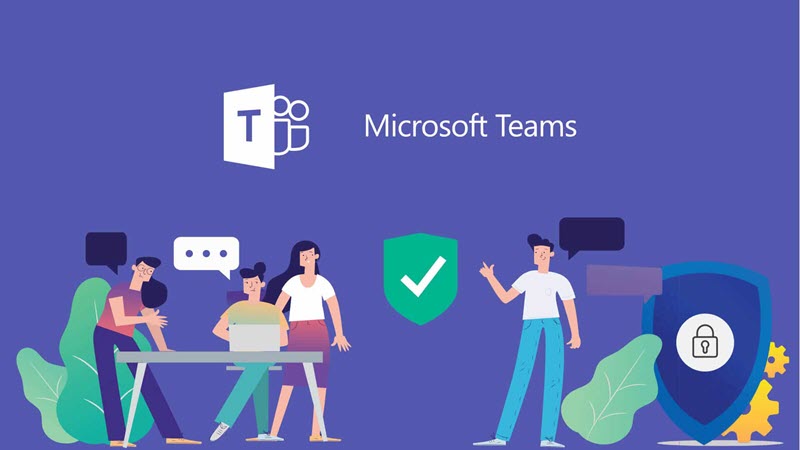 I experienced a similar issue at my workplace recently. Before finding the solution and fixing it, first, we need to understand the basic setup and policies in the organization. Here are the few things you need to validate before troubleshooting a single user issue.
Outlook add-in for MS Teams is already enabled in your organization by your administrator. That means it is working fine for others. So, we can decide that this problem is related to the particular user and his computer only. There is a global setting available to enable or disable Outlook add-in under MS Teams admin centre in Office 365. Let's assume it is already enabled for all users by your administrator.
The particular user has MS Teams and other relevant Office 365 licenses.
You haven't installed any new third-party firewall or antivirus software on this computer. These changes may interfere with the MS Teams communication with Outlook.
Once you confirm the above points, let's move to troubleshoot part.
Things to do to get back missing MS Teams in Outlook
Both user Profiles Should be Same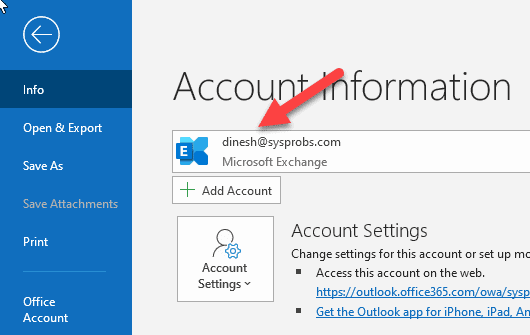 A user must log in with the same Office 365 account on Outlook and Microsoft Teams. There could be several possibilities that each program logged in with different accounts/user profiles. In this case, MS teams add-in will not appear (or not work properly) on the Outlook when logged with different accounts.
Check the Outlook login account by clicking 'File' on the menu and see the account details.
We can't identify the logged-in account in Teams without logging out. So, sign out from Teams and sing in back with the correct user account which used in Outlook.
Check the Teams Add-in in Outlook
Usually, when you install Teams, its add-in also gets installed to Outlook. In some cases, it should be enabled or checked.
1) Open Outlook and go to Options (File – Options)
2) Click on Add-ins and make sure that the Microsoft Teams Meeting Add-in listed under the Active Add-ins as showed below.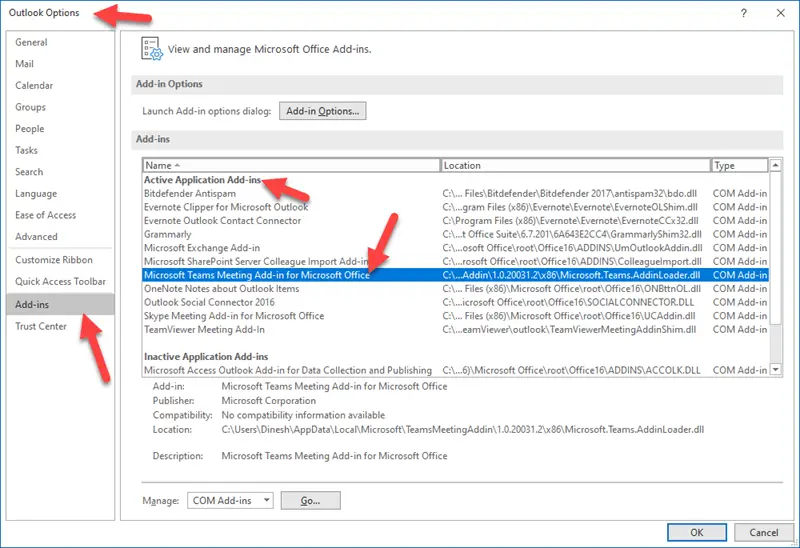 3) If you don't see it there, you may find it in 'Inactive Application Add-ins'. Click on Go button when the 'COM Add-ins' selected to enable it.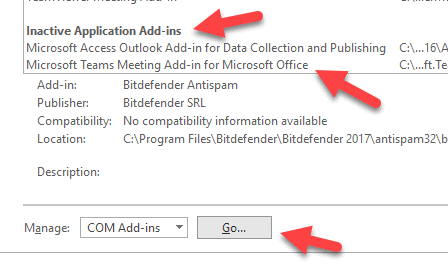 4) Here you need to select the Teams Add-in and press OK to activate it.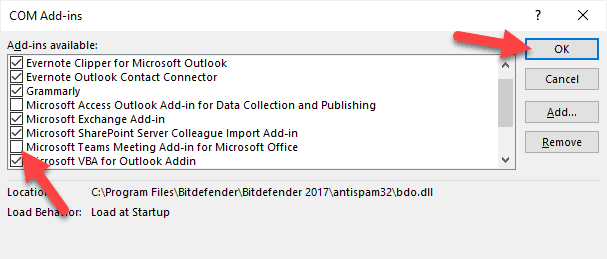 5) This should bring back the add-in, if not, close the Outlook and open again.
If Teams and Outlook are working fine separately, but still you can't see the Teams add-in in Outlook or unable to set up Teams meeting from Outlook after verified the above steps, try these below steps in order. Even sometimes you will not find the add-in in Outlook active or inactive add-ins area (That is what happened to me).
Doing the following steps in order will help in this case.
1) Uninstall the MS Teams.
2) Restart the computer.
3) Remove any saved credentials in Credentials Manager which related to Office 365 and the account you are trying to login. This is to clear the credentials cache and allow the Teams and Outlook to use/pop-up for fresh credentials.

4) Install MS Teams as an administrator. Make sure you have closed the Outlook completely before doing this step. This step may fix any permission issues to register the COM add-in.
5) Now start the Teams and log in with the correct user account that used in MS Outlook.
6) Once the teams logged in successfully, open the Outlook. The MS Teams add-in should appear in Outlook now. Even if not, you can sign out from both products again, and start the MS teams first then Outlook. The idea is that Microsoft Teams should be logged in before Outlook to make this integration work properly. That is why Teams program always loads when the computer starts. It is set as one of the start-up program/services.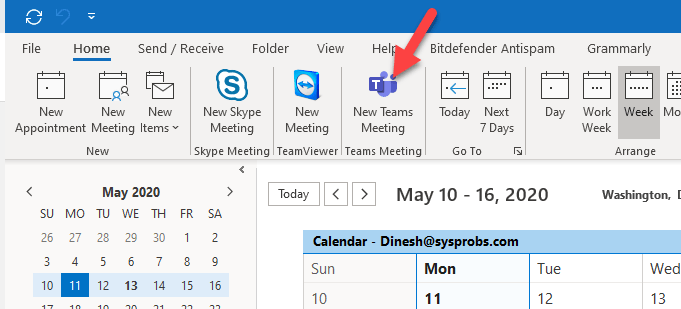 Now you should be able to set up the Teams meeting from Outlook Calendar or Meeting. It is one of the best ways to create Teams meeting by using the Scheduling Assistant feature in Outlook.
Though Microsoft Teams can't replace the Outlook but using both with the integration can increase your productivity and collaboration at the workplace. We hope this guide is useful to get back the missing Teams add-in in Outlook.