DNS_PROBE_FINISHED_NXDOMAIN is a famous error on Google Chrome web browser. It may appear on most of the Operating Systems including Windows 10, 8.1, 7, Linux, Mac OS X and even on Android smartphones where Chrome browser is in use. In this guide let me show the steps to solve DNS_PROBE error on Google Chrome with Windows 10, 8.1 by easy steps.
The error is basically related to DNS (Domain Name Servers) issue on your computer or the Chrome browser is facing difficulty in resolving website addresses to its' IP address.  When you try to access any websites, you may get DNS_PROBE_FINISHED_NXDOMAIN error with "This Webpage is not available".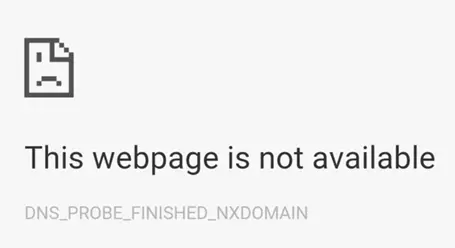 Steps to Fix DNS_PROBE_FINISHED_NXDOMAIN on Windows 10/8.1 Chrome Browser
As said earlier, this is purely related to DNS issue. The network adapter, either wireless or wired is struggling resolve DNS requests. This could be an issue with IP stack of your computer or the DNS cache on the PC/router. To keep it simple, let me share the steps you can follow one by one.
Step 1
Simply reboot your PC. It might fix the DNS issue that network adapter is facing. If this doesn't work, reboot once again, no worries.
Step 2
Reboot the internet router, either ADSL, 4G or fiber. Sometimes, your internet router acts as DNS server proxy and forward the DNS requests to ISP (Internet Service Provider) DNS server. In case, if the router gets stuck or unable to process the DNS requests from Chrome browser which throws DNS_PROBE_FINISHED_NXDOMAIN error, rebooting the router may fix it before we do next tweaks on the Windows 10 computer.
Step 3
Instead of releasing the IP and renewing it and then flushing the DNS to clear the cache, we can simply reset the winsock on Windows 10/8.1 computer. We have used the same command when a Windows 10 or 8.1 computer faced limited connectivity issue while accessing the internet earlier.
a) Open the command prompt as Administrator.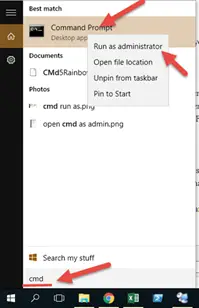 b) Type netsh winsock reset catalog and enter.

Restart your computer to take effect.
Step 4
If the step 3 did not work for you, then really something wrong with the DNS settings on the network adapter. Either your internet router or ISP assigned DNS server is having some issues. In this case, you can set any public open DNS servers manually on the network adapter your computer is connected to the internet. For example, if you are using wireless, change the wireless adapter or LAN adapter for Ethernet cable internet.
I will be showing for the wireless network adapter.
a) Open network connections from control panel network sharing center or from task bar. Right click on the wireless adapter and select properties.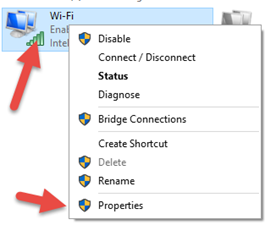 b) Manually set an open DNS address. In this example, I use Google public DNS.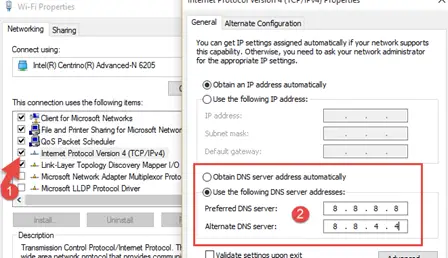 If you like to use another open and free DNS services, you can refer this link to find out more providers.
With these above steps, the error DNS_PROBE_FINISHED_NXDOMAIN  should be fixed and started working fine on Windows 10 Chrome browser.
If Nothing Work
1) You can follow our earlier guide to fix limited connectivity issue. This guide is having few more commands to reset/fix network adapter issues.
2) Uninstall and reinstall the network adapter (driver) from device manager. This will fix IP stack (IPv4) issues on the computer. Also, you can try updating the driver of network adapters, Windows OS update and even update the Google Chrome browser.
3) If the internet is working fine on the same computer with other web browsers but not with Google Chrome, you can consider resetting the chrome browser to defaults.
Type chrome://flags/ in the address bar of chrome browser then click on 'Reset all to default'. This will reset the browser to its factory default.
I hope guide would be useful to fix this error. Let me know how it works for you.