By default, when you click a PDF file in Google Chrome browser, it opens the PDF file in the browser itself. It doesn't download the PDF file or open in the default Adobe reader. If you are happy with this default setup, then you can skip any further settings. But if you need the browser to download the PDF file once you click on it and open in Adobe reader instead of Chrome browser, you can follow the below steps.
You may need to download the PDF file and open in Adobe reader to get more options and features which the acrobat reader has. For example, fill the forms, annotations, sign or any other options which Google Chrome doesn't have.
How are we going to do?
Changing the settings will download every PDF file you click in Chrome browser. You need to think twice whether you need this setup. At the moment once it opens in Chrome browser it has more options to save it locally and print.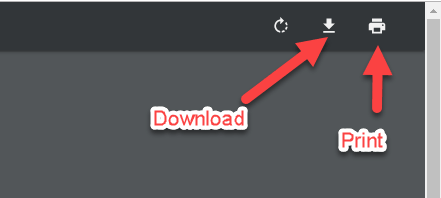 There is a plugin/extension we are going to discuss, which can sense the PDF file in Chrome browser and allow to open in local Adobe reader instead of downloading to your 'Downloads' folder.
If the Adobe reader is not set as the default PDF handler, then we need to fix that also.
Download PDF files Instead of Opening in Chrome Browser
1) When we click a PDF file, it opens like below.

2) To download the file without opening it in first instead, go to the settings of Chrome browser (Clicking 3 dots) and Settings.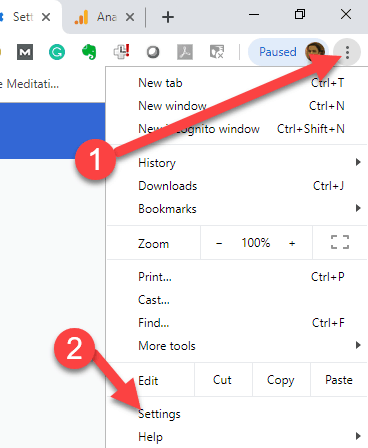 3) Scroll down and expand the 'Advanced' settings. Under 'Privacy and security' click on 'Site Settings'. I'm demonstrating these steps on the latest Chrome browser (ver – 74.0.3729). If you have the older version, you may find the final option in a different place.
4) Select 'PDF documents' here.

5) Enable this option to download PDF files without opening in Google Chrome. This will download the all PDF files you click to your default download location.

6) After the change, now the same PDF file downloaded to my computer without opening in the browser as shown below.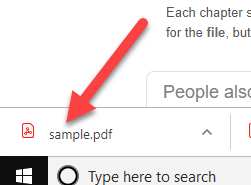 7) Clicking the file should open it in Adobe Acrobat reader. Hopefully, you already have Adobe Acrobat reader installed and set as default PDF file handler. If it is not opening in Adobe reader, then the Adobe reader is not set as the default app/program to open PDF files on your computer.
Open PDF file in Adobe Reader without Opening in Chrome – Using Plugin
To make this work, you should not enable the feature to download the PDF file we did in step 5. Once it is enabled, this method will not work.
8) Visit Chrome web store in your Chrome browser, and search for 'Adobe Acrobat' and add to chrome as an extension. You will see the Acrobat icon once it is added successfully.

9) With this plugin in, when we click a PDF file, as usual, it will open in the Chrome browser. But we have another option with this plugin to open in Acrobat reader.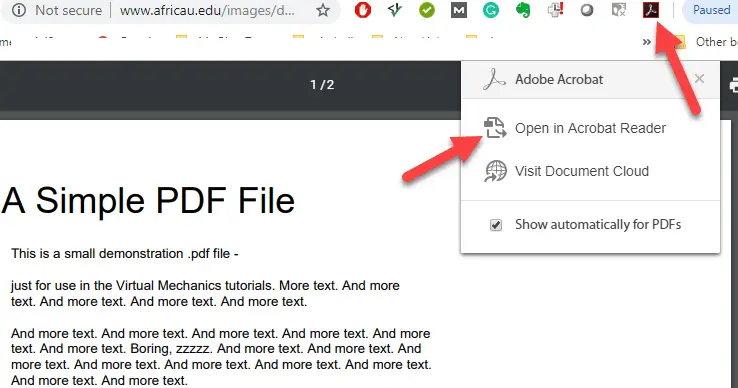 The plugin senses the PDF file and gives the option to open in Acrobat reader. Once you click that it will be opened in the local Acrobat reader without downloading to the local computer.
This method helps to view the PDF file in Chrome first, then open in Acrobat reader to annotate, fill or sign the PDF files.
Google Chrome not opening PDF files, but Downloading them
This could be another scenario you might face. Some users do not want to download and open it in local Adobe reader, instead, they want to see the PDF files in Chrome browser only. Later they will decide to download or discard. This is the default behavior of Chrome.
If any changes happened and you need to put back the default option to not download PDF files in Google Chrome by clicking, visit step 5 and disable download option of PDF files under Chrome settings.