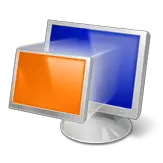 This post is a small comparison of  two free desktop virtualization software products Microsoft Virtual PC 2007 and Oracle VirtualBox 3.2. As I'm running a desktop virtualization blog and having enough of experience with these both products, I'm sharing this from my experience and thoughts. You can leave your comments and suggestions also. Let's not forget that, 'VMware Player' also a free product which is not covered here. So, Virtual PC 2007 vs VirtualBox 3.2, which is the best one?
Before go into detailed comparison, the answer is; it depends on your requirements.
If you are great fan of Windows OS and you are not going to use any other Operating systems, then go for Virtual PC 2007. Yes, it's having some limitations but well enough to satisfy basic home users who don't experiment or play around with other Operating Systems and applications.
If you are or want to be an IT guy ( like me 😉 ) who plays around and experiments on all Operating Systems (not only Microsoft but also Linux, Mac OS X, Solaris etc) at home or office, then go for Oracle VirtualBox which is having several important features.
OK, now lets go little deeper.
See Also
VirtualBox 3.1.6 vs VMware Player 3, Which is the Best Desktop Virtualization Software?
The Features and Advantages I like in MS Virtual PC 2007 than VirtualBox 3.2
1) It's from Microsoft, same company who made your Operating System. It gives some confident on compatibility, correct?
2) Differencing disk technology which helps to save time and disk space by easily cloning exiting virtual machines.
Read more here about how to clone virtual machine by differencing disks in Virtual PC 2007
3) If you want to run XP mode in Windows 7, then you get free license for Windows XP.
4) Aero for Windows 7 and Vista works inside VM.
5) Less resource consumption on host computer
As I expected Virtual PC consumes less resource on host computer. Because this doesn't have large console with more options and very less services compare to VirtualBox.
For example, when Virtual PC consumes only 11728 KB RAM, VirtualBox consumes 26878 KB RAM on host while no VMs are running on both.
So, it's an ideal way to run on low recourse computers.
6) Easy to configure accessing physical hard disk on host computer from VM. VirtualBox also supports this feature, but its complicated and failed some times.
The Features and Advantages I like in Oracle VirtualBox 3.2 than MS Virtual PC 2007
1) It supports most of the Operating Systems as guest and host. You can use on Linux, Mac OS X and Windows to run other Operating Systems. Virtual PC can be installed on Windows and Mac OS X hosts only and it supports only few Operating Systems as guest.
2) 64 Bit guest support and increase processor cores.
If physical computer supports Virtualization Technology (VT) and 64 bit architecture, then you can install 64 Bit OS inside VirtualBox. So, running 64 Bit OS such as, Windows 2008 R2, Windows 7 64 Bit and Linux 64 bit versions is possible no matter which version of host OS you have.
Read more here about Windows 2008 R2 on VirtualBox
Increasing processor cores for virtual machine is supported if physical computer is having core2duo or quad core or anything similar. This gives real performance boost on VM.
3) Snapshots
This feature is very important to take and keep a copy of virtual machine's state on specific time. VB has got good snapshot feature, called branched snapshots – read more.
You can keep multiple snapshots and go backward and forward of machine's state if you mess up something on VM.
4) Seamless Mode and Remote Display
These are the very cool features if you use VMs very frequently. Seamless mode enables you run guest applications and start menu from host desktop. This helps to avoiding to switch between guest and host every time. Read more about seamless mode.
Remote display supports to connect virtual machine's console by any of the remote desktop software. You can connect to any VMs running on your network by typing host computer IP and specific network port ( if remote display enabled, and no network connectivity required on guest VM) . This specially helps when you run VirtualBox server with headless mode to reduce work load. Read more here about setting up and connecting remote display.
5) 2D and 3D support
Still this doesn't bring aero in Windows guests,but it improves the video performance on all guest operating systems including Windows, Linux and Mac OS X.
6) Multiple Virtual Disk support
Supports VMDK (VMware), VHD (Virtual PC) and HDD (Parallels Desktop) disk formats. So its very easy to import and use other desktop virtualization virtual machines without converting them.
The above facts are the major advantages I see in both products under Virtual PC 2007 vs VirtualBox 3.2. I couldn't see much difference on guest machine's performance by my normal human eyes.
I use VirtualBox all the time and only use Virtual PC to write posts and do some tests.
Just a summary in one sheet, Virtual PC 2007 vs VirtualBox 3.2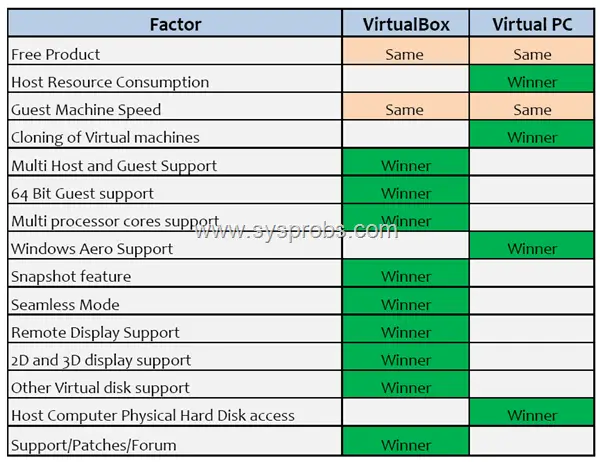 Again, this is completely from my opinion and experience, but I would like to hear from  your good and bad experience on both products.
Add some more factors and winner of it, so I can update this post regularly.