If you are a Lenovo laptop user or planning to buy a new laptop, the question may arise – what printer is compatible with Lenovo laptops? In this guide, we will discuss features and options you must look at while selecting the printer and some suitable printers for Lenovo laptops.
Primarily you need to consider the importance of compatibility, ease of use, and seamless connectivity when pairing printers and laptops. 
Also, we will explore the most popular Lenovo laptop models in the market and types of printers and discuss the pros and cons of each. So, after reading this review you must be in the place to select the suitable model for your home, business, or educational purpose.
Popular Lenovo Laptop Models
Lenovo has consistently produced high-quality laptops that cater to a wide range of users. By the time you read this guide, several new models could be available, but they are famous for producing excellent and strong laptops that last longer. 
Some of the popular Lenovo laptop models include:
Lenovo ThinkPad X1 Carbon
Lenovo IdeaPad Flex 5
Lenovo Yoga 9i
Lenovo Legion 5 Pro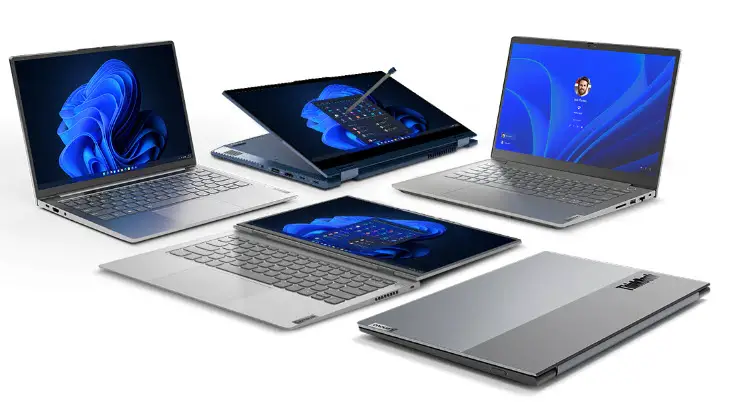 Printer Types and Their Pros and Cons
While selecting the compatible printer model with Lenovo laptops, you must be aware of the available types of printers in the market. This information will help you to identify the right model based on your requirements, daily usage, purpose, the print quality you need, and the cost of printer and maintenance, including cartridges and toners. 
Inkjet Printers
Inkjet printers are popular for their ability to produce high-quality color prints, making them ideal for home and small business users. They work by propelling droplets of ink onto the paper.
| | |
| --- | --- |
| Pros: | Cons: |
| Excellent color quality | Slower print speed |
| Relatively low upfront cost | Higher cost of ink cartridges over time |
| Compact size | |
Laser Printers
Laser printers use a laser beam to produce images and text on paper, making them well-suited for offices and other professional environments where high-speed printing is required.
| | |
| --- | --- |
| Pros: | Cons: |
| Faster print speed | Higher upfront cost |
| Lower cost per page | Larger size |
| Better text quality | Limited color capabilities |
All-in-One Printers
All-in-one printers combine printing, scanning, copying, and sometimes faxing into a single device, offering convenience and space-saving benefits. Depending on your use case, you can also have all-in-one printers at your home.
| | |
| --- | --- |
| Pros: | Cons: |
| Multifunctional | May have slower print speeds |
| Space-saving | Not as specialized as dedicated printers |
| Cost-effective for home and small offices | |
Printer Compatibility with Lenovo Laptops
Top printer brands like HP, Canon, Epson, and Brother are compatible with Lenovo laptops, providing you install the appropriate drivers for your operating system. Most modern printers support Windows, macOS, and Linux, ensuring seamless connectivity regardless of your choice of OS.
Technically all printers are compatible with Lenovo laptops; it mainly depends on Operating System and available connectivity on the laptop.
Installing Printer Drivers on Lenovo Laptops
Installing printer drivers on your Lenovo laptop is usually straightforward, as most drivers come with an easy-to-follow installation wizard.
The Operating System will often automatically detect and install the appropriate driver when you connect the printer for Windows users. But from my experience, I recommend downloading the printer driver from the official website and installing it manually to get all printer options and faster printing.
For macOS and Linux users, you may need to download the driver from the manufacturer's website or use a third-party repository.
Connectivity Options for Lenovo Laptops
USB Connections
USB connections are the most common way to connect a printer to a Lenovo laptop. This method offers a reliable, wired connection, making it ideal for users prioritizing stability over convenience.
The main drawback is every time you need to connect the printer USB cable to the Lenovo laptop if you frequently move around with the laptop.
| | |
| --- | --- |
| Pros: | Cons: |
| Reliable connection | Limited mobility |
| Easy to set up | Requires close proximity to the laptop |
Wireless Connections
Wireless connections, such as Wi-Fi or Bluetooth, allow you to print from your Lenovo laptop without needing a physical connection to the printer. This offers greater flexibility and mobility, mainly if you are a user who frequently moves your laptops around the home or office.
| | |
| --- | --- |
| Pros: | Cons: |
| Greater mobility | Less reliable than a wired connection |
| Convenient | May experience interference from other wireless devices |
Wired Network Connections
A wired network connection like Ethernet/LAN cable provides a stable and fast connection between your Lenovo laptop and the printer. This option is particularly useful in office environments where multiple users must connect to the same printer. In this case, the printer can be connected via the LAN cable, and your laptop can communicate with the printer via LAN or Wi-Fi connectivity.
| | |
| --- | --- |
| Pros: | Cons: |
| Stable and fast connection | Requires an Ethernet cable |
| Suitable for multi-user environments | Less convenient than wireless connections |
Tips for Choosing the Best Printer for Your Needs
As I mentioned earlier, most of the printers support Lenovo laptops. So, what printer is compatible with Lenovo laptop? Consider the following factors and relate them to your scenario. 
Print quality: If you require high-quality color prints or sharp text, consider an inkjet printer for color and a laser printer for monochrome printing.
Print speed: Laser printers typically offer faster print speeds, making them ideal for users who print large volumes of documents.
Cost of ink/toner: This is a critical point to consider when selecting a printer. Laser printers often have a lower cost per page compared to inkjet printers.
Connectivity options: Evaluate your preferred connectivity method, such as USB, wireless, or wired network connections, and ensure the printer you choose supports that option.
5 Best Printers for Lenovo Laptops:
This section lists some of the most suitable and latest printers for Lenovo laptop users.
1. Canon PIXMA TR4520 All-In-One Wireless Printer
The Canon PIXMA TR4520 is a wireless all-in-one photo printer that can handle all your printing needs. With the USB connectivity and the Canon Print app, you can easily set up your printer and print from a Lenovo laptop and your smartphone or tablet.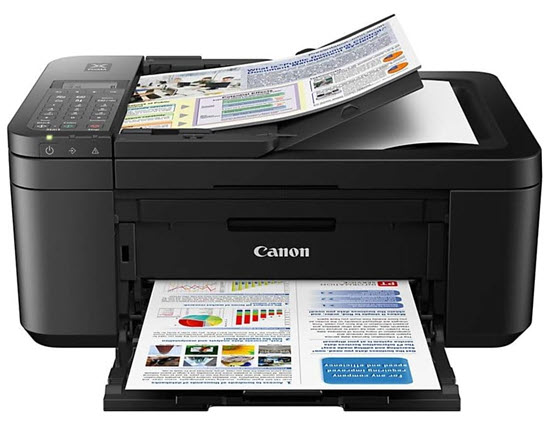 This model delivers high-quality color prints with a maximum print speed of 4.4 pages per minute for color and 8.8 pages per minute for monochrome, which should be enough for most home and business usage. It also includes auto-duplex printing, which saves you time and paper by automatically printing on both sides of the page.
The Canon PIXMA TR4520 is perfect for both home and office use. It is sleek black and features a compact design that saves space. Plus, it works with Alexa, so you can print your shopping list, to-do list, crosswords, coloring pages, and more with just your voice. 
2. HP OfficeJet 3830 All-in-One Wireless Printer
This is another all-in-one wireless printer designed for both home and office use. With its Wi-Fi and USB connectivity options, you can easily print from your computer, Lenovo, or any laptop or smartphone without wires. This printer can print high-quality color prints with a maximum print speed of 40 pages per minute.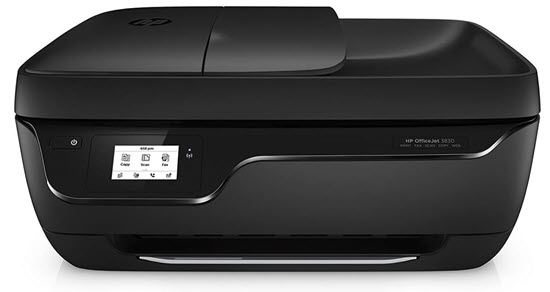 The special feature of the HP OfficeJet 3830 is the auto-document feeder, which allows you to scan, copy, and fax multiple pages at once without manual intervention. It also has a flatbed scanner for scanning books, documents, or photos.
The HP OfficeJet 3830 is compatible with both Windows and Mac operating systems. It works seamlessly with various printing apps such as HP Smart App, Apple AirPrint, and Google Cloud Print.
Sale
3. Epson Expression Home XP-4100 Small-in-One Printer
The Epson Expression Home XP-4100 Small-in-One Printer is another great and affordable printer designed for home and office use. It has high-resolution 2.4-inch color LCD display to manage/control the printer well. 
This printer saves time and paper with automatic two-sided printing, allowing you to print on both sides of a page without having to flip it over manually. Since it has individual ink cartridges, you can only change the ink running out.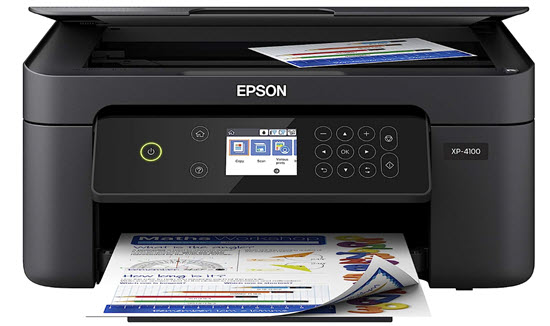 The XP-4100 is a complete wireless solution, allowing you to easily print from your iPad, iPhone, Android tablets, and any other smartphone. But also, it has the other required connectivity ports. So, it is compatible with Lenovo laptops with Windows 11 or Windows 10.
The printer also features hands-free, voice-activated printing, allowing you to print a variety of projects and documents, including your to-do and shopping lists. 
If you are on a tight budget, this printer model suits your Lenovo laptop or desktop computer.
4. Brother HL-L2390DW Monochrome Laser Printer
The Brother HL-L2390DW Monochrome Laser Printer is a great choice for home or business use. It offers fast, reliable printing at up to 32 pages per minute, with crisp 2400 x 600 dpi resolution and a built-in automatic duplexer for two-sided printing. It also features a 250-sheet paper capacity, ideal for reducing paper refills.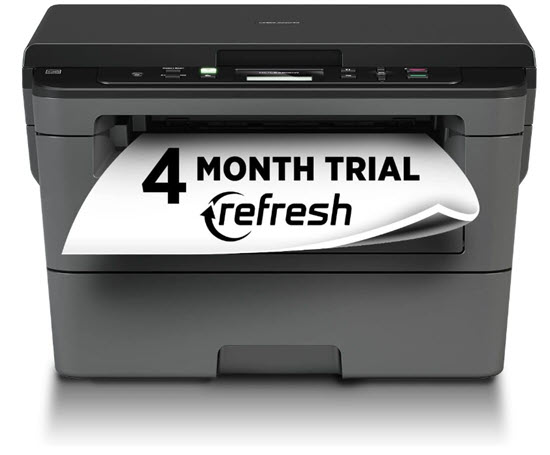 This printer is fully for Windows 11, making it the perfect fit for your Lenovo laptop. With Wi-Fi Direct capability and mobile device print options like AirPrint, Google Cloud Print 2.0, and many more, you can easily print from anywhere in your home or office using compatible devices.
Additionally, this printer features an adjustable single-sheet bypass tray that allows you to easily print on alternative media such as envelopes or card stock.
Sale
5. Brother MFC-J491DW Inkjet All-in-One Printer
The Brother MFC-J491DW Inkjet All-in-One Printer is the perfect color printer for home and office use under a budget. It offers the required features, including printing, scanning, copying, and faxing. This printer is compatible with Windows and Mac operating systems, so it's ideal for use with your Lenovo laptop. 
This printer has a reasonable print speed of up to 12 pages per minute (black) and 6 pages per minute (color). It also boasts a high resolution of 4800 x 1200 dpi for sharp and vivid prints.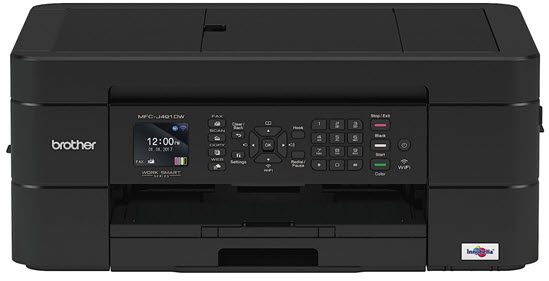 Like other printers in this list, the Brother MFC-J491DW has all connectivity options to connect your desktop, laptop, and mobile devices. 
The MFC-J491DW also has an adjustable single-sheet bypass tray that lets you easily print on alternative media such as envelopes or card stock. It includes an automatic document feeder that can hold up to 20 sheets at once for easy multiple-page scanning and copying. 
Conclusion
So, what printer is compatible with Lenovo laptops? The answer is simple and all printers are compatible with the Lenovo laptop. 
As long as you have the officially supported Operating System like Windows 11 or 10 on your Lenovo laptop, you can easily connect your laptop to any printer model. 
Always ensure you have the appropriate printer drivers installed and choose a connectivity method that aligns with your preferences and usage patterns. By doing so, you'll enjoy a seamless printing experience, allowing you to focus on what matters most: your work or creative projects.