Even if you are a Mac IT savvy, still you would be wanting to install and see what's new with upcoming Windows 10 on Mac OS X. The good news is, Parallels Desktop 10 for Mac made the installation super easy. Within few clicks you are going to get the running Windows 10 on your Mac laptop or desktop with Yosemite or Mavericks OS.
Parallels Desktop 10 officially supports Microsoft Windows 10 (technical preview). The famous desktop virtualization software for Mac made the download and installation steps very easy in unattended method. We have earlier showed the way of downloading Windows 10 technical previews from Microsoft's Windows insider program. Also, this guide shows how you can install it on Oracle VirtualBox on Windows environment (like Windows 8 and 7).
When it comes to Mac OS X on Apple hardware, Parallels is one of the best desktop virtualization software for Mac to run Windows and other operating systems. You just need to click few clicks to get running Windows 10 on Mac, of course it will download the official ISO from Microsoft which require good internet connection.
Installing Windows 10 on Mac Yosemite with Parallels
1) Make sure you have the latest Parallels Desktop 10 or later versions which support this feature.
2) Create a new virtual machine in Parallels and select Windows 10 Technical preview as shown below.
3) Next screen is to select the version you would like to install. Remember, the Parallels desktop virtualization software for Mac will be download the appropriate ISO from Microsoft site (based on your selection).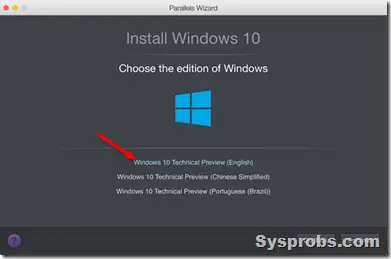 4) Select the location to download and save ISO file. You can leave with the default location too.
5) The download process will start with the next screen, since the size is around 5GB, it will take some time.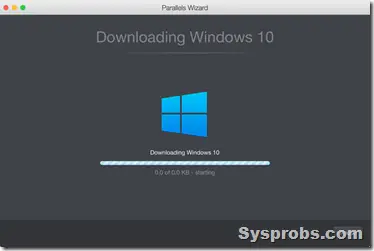 7) Once the ISO has been downloaded from Microsoft site, installation will begin automatically. Windows 10 installation steps have not been changed, it is very similar to Windows 8. You can refer our earlier guide to go through these steps.
You must have Microsoft account to login Windows 10 on Yosemite with Parallels Desktop.
8.) Here is the working Windows 10 on Parallels with Yosemite MacPro laptop.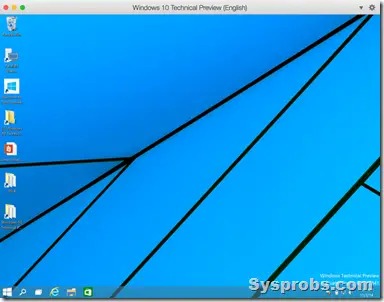 If you already have the ISO file of Windows 10, then you can follow the normal method to create a new virtual machine, mount the ISO file to CD/DVD drive and install the Operating System.
What I Like with Windows 10 on Parallels Desktop
I have used Oracle VirtualBox to install Windows 10 on Mac OS X 10.10, but the display quality and performance is very bad. Even though VirtualBox doesn't support Windows 10 officially yet, but I can say even Windows 8.1 works with the same poor display on Mac. Compared to that, Parallels handles Windows 10 very well on Apple hardware. The display performance and quality is excellent while running the guest OS in full screen size. It almost looks like running the Windows 10 natively on Apple laptop or like using Boot camp.
Of course we can't compare VirtualBox with Parallels, because first one is free and other one is a paid software. Incase you need to use Windows 10 on your Mac laptop or desktop very frequently and in better way, I suggest to spend some bucks and buy the Parallels desktop 10, it works great.