With the release of Xcode 6 by Apple, I'm sure most of us would be loving to install and test it on testing environment. How about installing Xcode 6 on Windows PC? There is no way available to install it on Windows directly since it doesn't support Windows OS platform. This guide shows you how to install Xcode 6 on Windows 7 or Windows 8,8.1 with virtual machine using VMware workstation.
So, you must have a working Mac OS X virtual machine already on your Windows computer to use this method. Xcode 6 introduces new way of designing and building Mac OS and iOS applications with innovative programming language Swift.
As of now, only registered Apple App developers can download the latest release.  Xcode 6 can coexist with earlier Xcode 5 version, so you do not need to remove earlier version.
Steps to Install Xcode 6 on Windows
1) Make sure you have working Mac OS X 10.9.3 Mavericks (or later) version virtual machine on VMware or Oracle VirtualBox.
You can follow our earlier guide to install OS X 10.9 and update it to 10.9.3.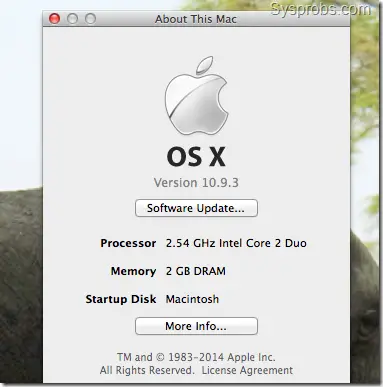 2) If you have official app developer access to download Xcode 6 beta, visit download  page here and download it inside Mavericks virtual machine. If you do not have the access, then look for alternate download sources.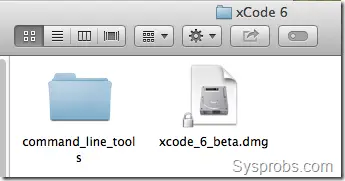 3)  Installation is very simple, as said earlier it can coexist with Xcode 5 version. You can check our earlier guide to install Xcode 5.0.2 on Windows 8 or Windows 7 here.
Double click the downloaded DMG file and start the installation. Mavericks 10.9.3 or later version is must for Xcode 6.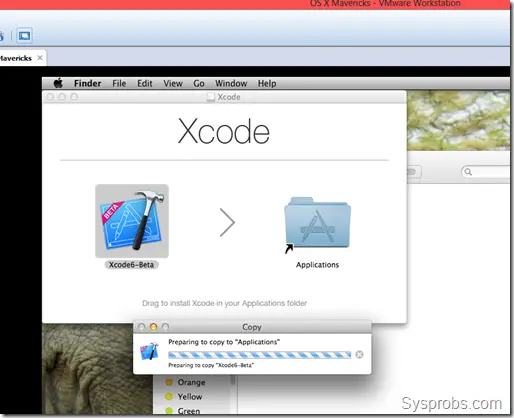 Yes, that is the simple way of installing Xcode 6 on Windows PC with Max OS X virtual machine. The only difficult part is, installing Mavericks OS X on VMware workstation or VMware Player. Even we made that easy by showing you how to install OS X 10.9 with pre installed VMware image here. You just need to download the preinstalled virtual machine image, import and run it on Windows PC.
Here is the working Xcode 6 on my Windows 8 computer used with VMware workstation 10.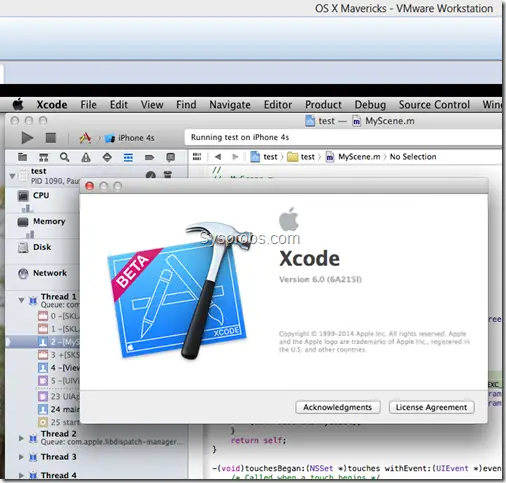 This method should be helpful in evaluating new Xcode 6 on Windows PC before moving to Apple hardware Mac laptop or desktop. Also this is not recommended if you want to become a professional app developer for Mac and iOS, better get a Mac hardware with original OS X for that purpose.