After seeing many outdated and non-working guides to setup Gmail account in Outlook 2016/365 with IMAP settings, I decided to publish this working guide.  Microsoft Outlook is one of the useful and beautiful email client application for daily use. It can be configured with free email service providers like Gmail and Outlook.com. In this article, I will be showing how to setup Gmail in Outlook 2016 through IMAP mail protocol.
Why Configure Gmail on Outlook?
Even though there are official and non-official email apps to connect Gmail account without any issues on the smartphones and tabs, you do not have that luxury on Windows computer. If you are a regular user of Microsoft Windows and Office, it is better to use Outlook as your single mail client program.
By setting up the Gmail account with Outlook, you can centrally manage emails with another email accounts on your computer. Also, it automatically downloads the emails; you do not need to visit the Gmail website and check manually every time. You can compose the emails online or offline with the all features Outlook provides while drafting. Also, other Outlook features such as Email Signature, Rules, and Address book synchronization can be used with Gmail once it is configured on Outlook 2016/2013.
Enable Gmail IMAP Settings First
We will be using IMAP email protocol to connect Gmail server from Outlook 2016. By default, IMAP and POP protocols are disabled on Gmail for security purpose. If you are going to set up Gmail in Outlook 2016/365 or earlier versions, you must enable it first as shown below.
1) Log in to the Gmail account and access the settings. Under "Forwarding and POP/IMAP," you will find the option to enable IMAP, enable it and apply.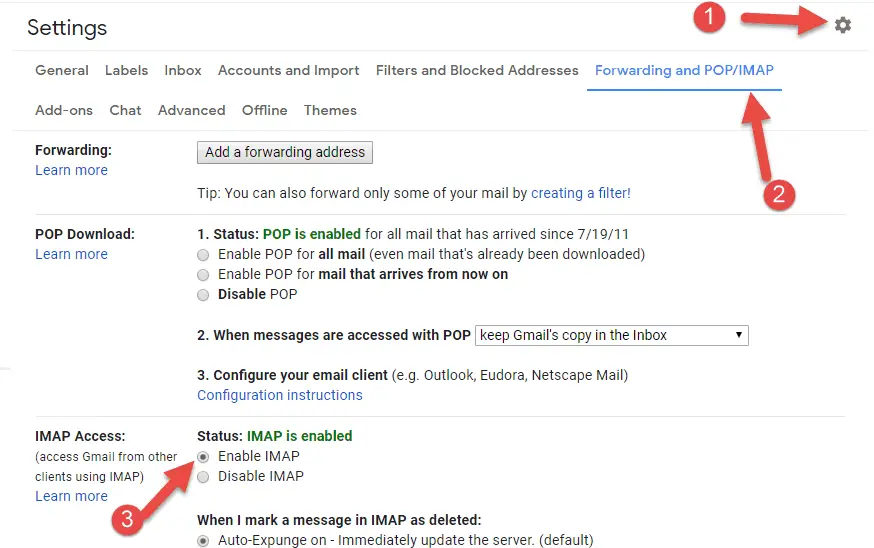 Now the IMAP access is enabled for your account which can be used to connect MS Outlook.
2nd Important Settings when you setup Gmail on Outlook 2016 via IMAP protocol is the App password from Gmail.
You must enable two-factor verification and create an App password for your email client on Windows computer to make it work.
Enable Two Factor Verification
2) When your Google account logged-in, visit the two-factor verification page here. Press Get Started if it was not enabled earlier in your account. You may need to re-enter the Google password to proceed next screen.
You will see the below message if Two-factor verification already enabled. Otherwise, you can enable it easily on this page.

After it is enabled, now you can create the App password for Outlook.
Create an App Password
3) Inside the Gmail access, click on the "Account" app from the right top corner as below.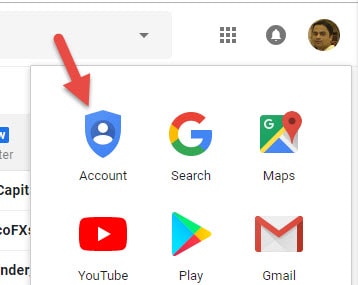 4) Then click on "Sign-in & Security".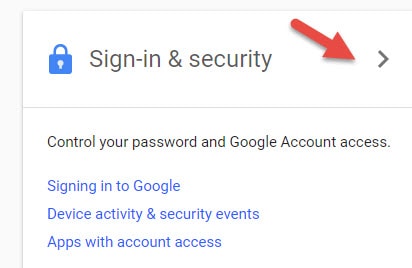 5) Under "Password & sign-in method" select "App passwords" to create a new email app password. Enter the Gmail password if prompted.
6) Here you select Mail and Windows Computer to generate the App password.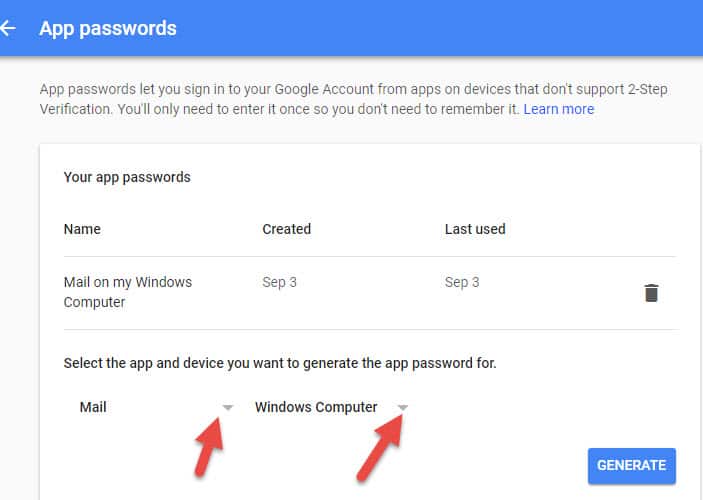 7) It will create a password and explains the purpose and how to use it. Just write it down or take a screenshot of it.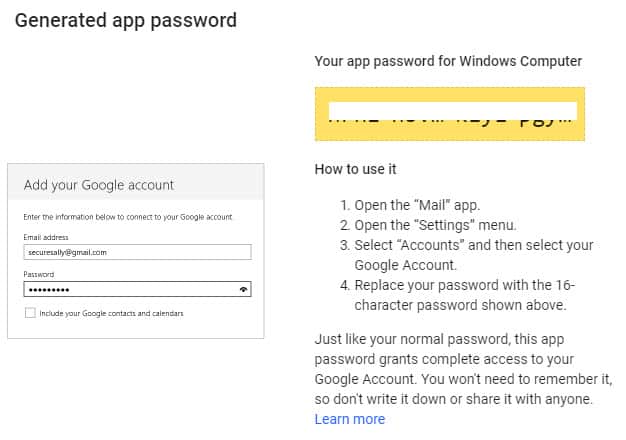 Now we are good to configure the Gmail email account on Outlook 2016.
How to Setup Gmail in Outlook 2016 or Earlier versions with IMAP Settings?
8) Open Outlook, Click on File from the Menu bar and select Add account.

9) Depending on your Outlook version, you may get the different screen here. Since I have Office 365 version, I got the below screen. Enter your email address and press Connect.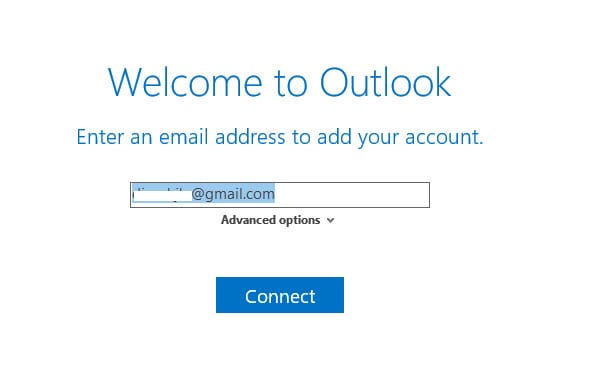 Even though the several guides suggest to set up the Gmail account manually, but Google and Microsoft are smart enough to do the auto-detection and configuration of your Gmail account just with the email address and the App password we generated earlier.
10) Type the App password you created, not the actual Gmail password. It will auto-configure the account without any additional settings such as mail server address, email Port number, and security settings.
Successful configuration should return the below screen.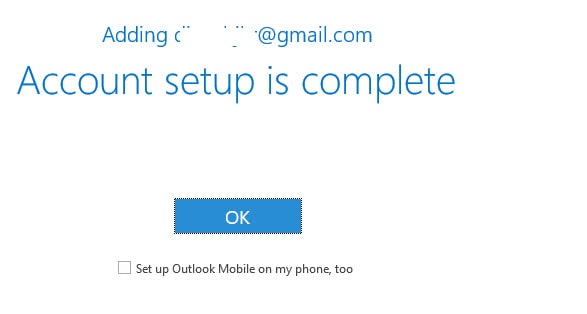 That's it; we have successfully configured the Gmail account on Outlook 2016 (or Office 365 versions) by using only IMAP protocol.
You can have the Gmail account on Microsoft Outlook by using POP and IMAP protocols together by manual settings without App password. But it is not recommended to use older POP protocol nowadays since we have advanced and secured email protocols available. Using IMAP and Two Factor verification by App password, you will have an additional layer of security and email communication between Gmail email servers and your Outlook mail client from the computer.
If you are specifically looking for IMAP settings for Gmail on Outlook 2016/365, here are important settings based on the auto-configured account in this example.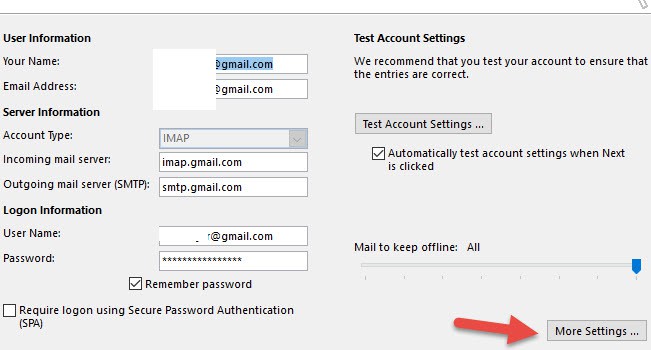 In more settings, under Outgoing mail server, it should be like below.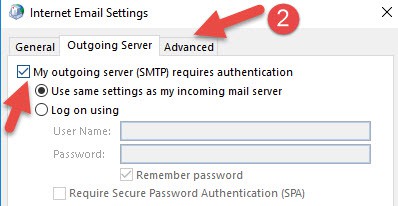 Advanced settings mail ports and security protocols stay like below.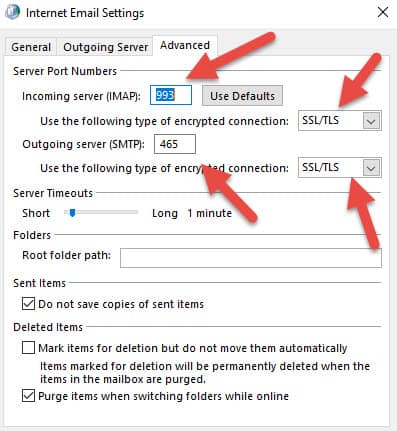 You may need above configurations if you need to set up Gmail account on earlier versions of Outlook or for some reasons it is not detecting automatically on the latest versions.
Hope this guide is useful to set up Gmail in Outlook 2016 (Office 365) with IMAP protocol. If you face any issues, do comment below.